This dessert will have you skipping the actual cheesecake and going for double dips of this! Wonderfully creamy and thick, with a touch of gooey caramel sauce.
Makes: 8 servings
Serving Size: 4 tablespoons (56g)
Prep Time: 5 minutes
Total Time: 5 minutes
Nutrition Facts:  143 calories / 11g carbs / 5g protein / 9g fat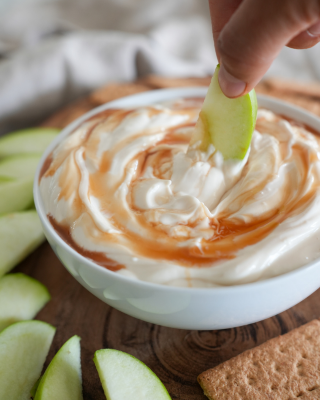 Ingredients:
2 cups (226g) "Noosa" Salted Caramel yogurt
8-ounces (224g) "Philadelphia" cream cheese, ⅓ less fat
Instructions:
Mix together yogurt and cream cheese until well combined.
Serve with apple slices, graham crackers, or other fruit! Macros not included.
Top with an extra drizzle of caramel sauce, if desired. Macros not included.