If you love traditional potato-based gnocchi you have to try the cauliflower version! It's lower in carbohydrates but has the same pillowy texture. Using this sauté method instead of boiling will give it a beautiful crispy exterior with a soft inside.
Servings: 4 servings
Serving Size: 4 ounces chicken (85g) + 1 cup gnocchi (122g)
Total cooked weight: 828 grams
Prep Time: 15 minutes
Total Time: 40 minutes
Nutrition Facts: 398 calories / 31g carbs / 28g protein / 15g fat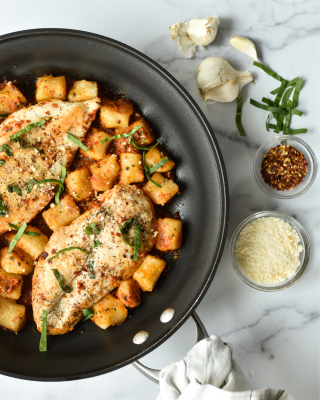 Ingredients:
Pan Sauteed Chicken:
1 tablespoon olive oil
1 pound (454g) skinless, boneless chicken breasts
Roasted Red Pepper Pesto and Cauliflower Gnocchi:
2 (120g) roasted red peppers (jarred)
½ cup (12g) fresh basil
3 tablespoons orange juice (46g)
2 tablespoons (12g) grated Parmesan cheese
2 cloves (6g) garlic
¼ teaspoon crushed red pepper flakes (optional)
4 teaspoons olive oil (divided)
2 packages (680g) "Trader Joe's" frozen cauliflower gnocchi
Optional garnishes: extra parmesan cheese, basil, red pepper flakes
Instructions:
Trim chicken of any excess fat. Place chicken in a plastic freezer bag or under plastic wrap and pound to approximately one half-inch thick. Season with salt and pepper to taste.
Heat one tablespoon of olive oil in a large nonstick skillet over medium-high heat. Transfer chicken to the skillet and cook until browned, flipping once (about 5-6 minutes per side). The internal temperature should reach 165 degrees. Transfer to a plate.
While the chicken is cooking, begin preparing the pesto by removing red peppers from the jar and draining off excess brine.
Add roasted red peppers, basil, orange juice, Parmesan cheese, garlic, and red pepper flakes (optional) to a food processor. Pulse 8-10 times. Turn on and slowly pour in 3 teaspoons of the olive oil. Run until smooth. Season pesto with salt to taste.
Add the last teaspoon of olive oil to the skillet and add frozen gnocchi in a single layer. Cook 3-4 minutes (undisturbed) until golden brown, flip and repeat on the second side. Add pesto to the skillet with gnocchi and toss to coat, shaking the pan.
Nestle chicken breasts in the pan with gnocchi and top with additional Parmesan cheese, basil and red pepper flakes, as desired (macros will vary with garnishes).
Notes
There are a variety of frozen cauliflower gnocchi options now on the market. Any brand can be substituted, as desired. Macros and allergens will vary with each brand.