These chai flavored cookie bars are wonderfully dense and chewy, and delightfully spiced with strong flavors of cinnamon, nutmeg, and cardamom.
Makes: 16 servings
Serving Size: 1 cookie bar (48g)
Prep Time: 15 minutes
Total Time: 30 minutes
Nutrition Facts: 129 calories / 16g carbs / 1.5g protein / 7.5g fat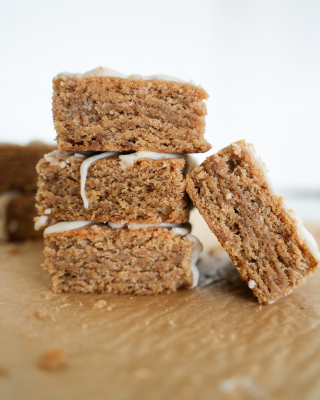 Ingredients:
1 ½ cups (188g) all purpose flour
1 teaspoon baking soda
1 teaspoon cinnamon
1 teaspoon cardamom
½ teaspoon salt
½ teaspoon ground ginger
⅛ teaspoon nutmeg
½ cup (112g) refined coconut oil (melted)
½ cup (110g) packed brown sugar
1 large egg
1 teaspoon vanilla extract
Instructions:
Preheat the oven 350 degrees F.
In a medium mixing bowl, combine together the flour, baking soda, salt, and all the spices. Set aside.
In a large mixing bowl, beat together the melted coconut oil and brown sugar. Then mix in the egg and vanilla extract.
Add the dry ingredients to the wet ingredients and mix until just combined. The dough should be relatively dense and stick together easily, like a paste.
Transfer the dough to a greased or lined 8×8 baking pan and press down until the surface is flat and even.
Bake for 15-20 minutes until slightly golden brown on top.
Cut into squares, drizzle with extra icing, and enjoy!
Notes:
If you prefer cookie bars that are not quite as spiced, reduce the cardamom by ½ tsp and omit the nutmeg.
Top with your favorite drizzle, if desired. Macros not included.