All of your favorite cheeseburger flavors wrapped in a fun and creative appetizer! These cups are perfectly portioned and easier to make and serve for a crowd.
Servings: 12
Serving Size: 1 cup (50g)
Prep Time: 15 minutes
Total Time: 30 minutes
Nutrition Facts: 102 calories / 7.5g carb / 10g pro / 4g fat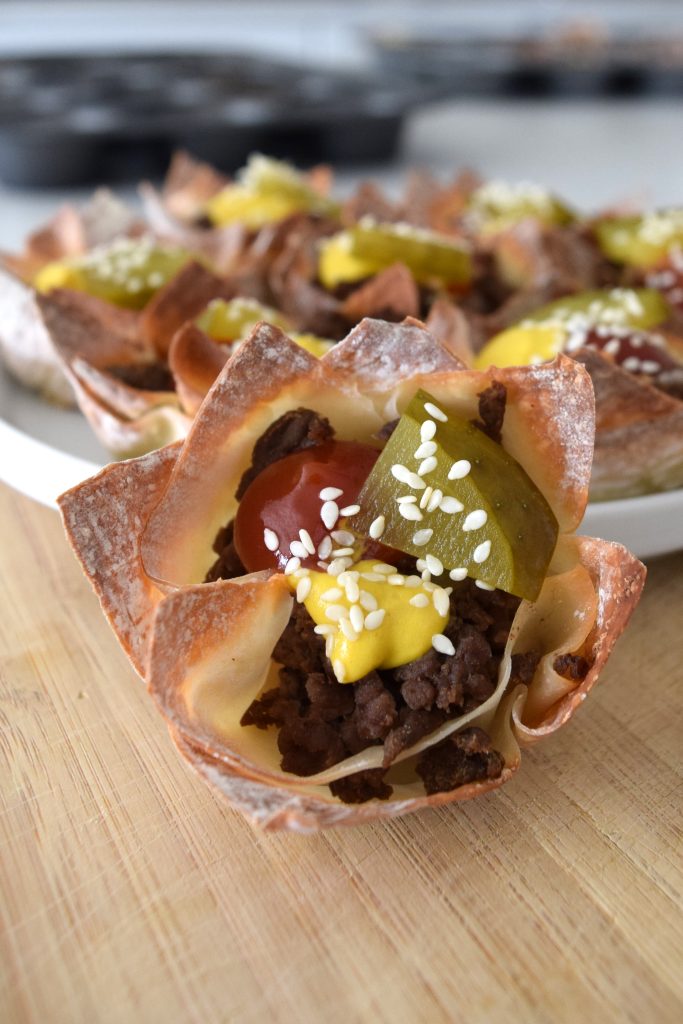 Ingredients:
1 pound 93% lean ground beef (454g)
½ teaspoon salt
¼ teaspoon ground black pepper
24 "Dynasty" wonton wrappers (152g)
2-ounces shredded cheddar cheese (57g)
5 dill pickle slices (chopped) (30g)
Optional garnishes: ketchup, mustard, pickles, sesame seeds
Instructions:
Preheat the oven to 350 degrees F.
Heat a nonstick skillet over medium high and brown the meat, crumbling well with a wooden spoon. Season with salt and pepper.
Meanwhile, prepare a muffin pan. Grab two square wonton wrappers and separate them. Layer them back together while staggering the edges of the corners, so you have eight points total. Press into the bottom of each muffin cup. (There should be two wonton wrappers per cup).
Spoon the ground beef into each wonton cup and top with a sprinkle of cheddar cheese.
Bake for 12-15 minutes or until the edges of the wonton wrappers are golden brown and crispy, and the cheese is melted.
Let cool and top with pickles. Little dollops of ketchup and mustard are also great! Transfer to a serving platter.