What is it about mini foods that instantly make everything more fun? These bite-sized cheesecakes are the ideal, perfectly-portioned treat to bring to any party!
Servings: 10
Serving Size: 1 cheesecake bite (78g)
Prep Time: 15 minutes
Total Time: 35 minutes, plus cooling time of 120 minutes
Nutrition Facts: 151 calories / 19.5g carbs / 4.5g protein / 7g fat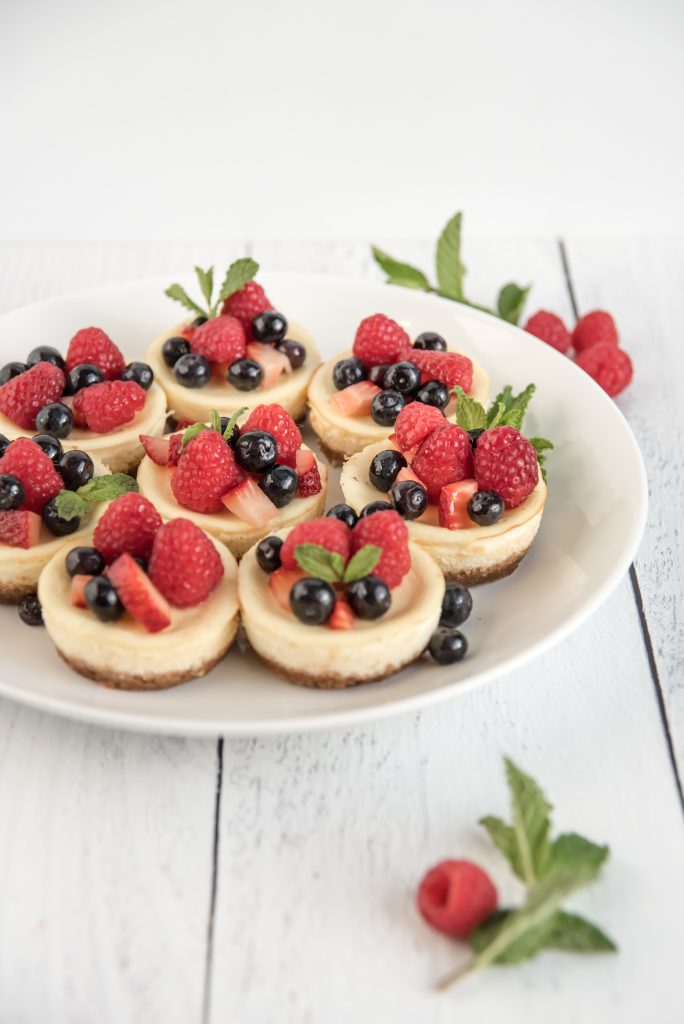 Ingredients:
1 cup (104g) graham cracker crumbs
2 tablespoons (27g) brown sugar (packed)
½ teaspoon ground cinnamon
¼ teaspoon salt
3 tablespoons butter (42g) (melted)
6 tablespoons (93g) 1/3 less fat cream cheese (room temperature)
1 cup (254g) plain Greek yogurt (room temperature)
2 large (100g) eggs (room temperature)
¼ cup (50g) sugar
½ teaspoon vanilla
1 cup (142g) mixed berries of choice
Instructions:
Preheat the oven to 350 degrees F. Line 10 compartments of a standard muffin tray with cupcake liners or spray with nonstick cooking spray.
Combine graham cracker crumbs, brown sugar, cinnamon, and salt in a medium bowl. Pour in melted butter and stir until all the crumbs are thoroughly moistened. Distribute crumbs evenly between the 10 prepared muffin compartments and tamp down into an even layer.
Bake crusts for 5-6 minutes, or until lightly golden and fragrant. Remove from the oven and set aside to cool while you make the cheesecake base.
To make the cheesecake base, add cream cheese, Greek yogurt, eggs, sugar, and vanilla to the bowl of a food processor. Pulse until the mixture is smooth and creamy and no lumps remain. (Alternatively, beat the ingredients together using a hand or stand mixer)
Divide mixture evenly between the ten prepared muffin cups, filling them almost to the top. Bake for 14-15 minutes, or until the cheesecakes appear slightly puffed and no longer jiggle.
Allow cheesecakes to cool completely then refrigerate for a minimum of 2 hours. Decorate with berries just before serving.
Notes:
The secret to a silky-smooth cheesecake? Set out all your ingredients ahead of time and let them come to room temperature before you start baking.