Who knew making your own bagels could be so easy? Up your breakfast game with some pillowy-soft bagels, hot from the oven! Cottage cheese adds protein while nutritional yeast enhances their rich and cheesy flavor.
Servings: 4 bagels
Serving Size: 1 bagel (104g)
Prep Time: 10 minutes
Total Time: 50 minutes
Nutrition Facts: 199 calories / 33.5g carbs / 11.5g protein / 1.5g fat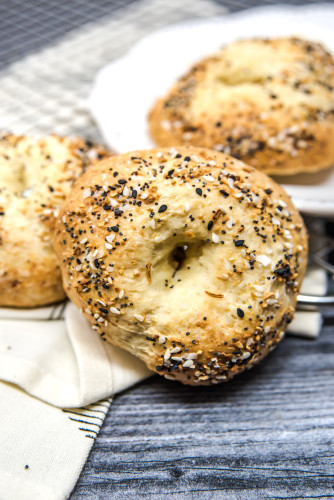 Ingredients:
1 ¼ cup (150g) all-purpose flour
1 tablespoon nutritional yeast (optional)
2 teaspoons baking powder
¼ teaspoon salt
1 cup (226g) low fat cottage cheese
½ large egg white (17g), (lightly beaten)
2 teaspoons everything bagel seasoning
Instructions:
Preheat the oven to 375 degrees and line a baking tray with a silicone liner or parchment paper. If using parchment paper, spray with nonstick cooking spray.
In a medium bowl, whisk together flour, baking powder, nutritional yeast (if using), and salt. Fold in the cottage cheese.
Turn the dough out onto a lightly floured work surface and knead until the dough is supple and tacky but no longer sticky. It will take about 5 minutes for the cheese curd to slowly break down and incorporate into the flour. Add a little more flour, if necessary, to make the dough less sticky and easier to handle (extra flour not calculated in macros).
Divide dough into four equal parts. Roll each portion of dough into a ball then use your thumb to press a hole through the center, carefully stretching out the dough into a ring.
Place dough rings on the prepared baking sheet and brush the tops with egg white, followed by a sprinkling of everything bagel seasoning.
Bake for 24-26 minutes, or until bagels are puffed and golden. Let cool for at least 15 minutes before cutting.
Serve with your preferred bagel topping or slice in half to use for breakfast sandwiches (macros not included).
Notes:
New to kneading bread? This dough is forgiving, so don't be intimidated. For best results, organize the preparation space before beginning by having ingredients measured and within reach.
If omitting the nutritional yeast, consider substituting 1-2 teaspoons of bagel seasoning or dried herbs in its place.
Bagels will keep at room temperature for one day, wrapped in plastic wrap and in the fridge for three days, or wrapped in the freezer for two months.
Make this recipe gluten free by using any gluten-free flour brand. Consider using "Bob's Red Mill" gluten free 1 to 1 baking flour. Increase temperature to 400 degrees and bake for 20 minutes.
---
Some of the links above are affiliate links, which may earn Macrostax a commission at no extra cost to you.