Say goodbye to greasy garlic bread and hello to these super soft garlic & chive dinner rolls! No yeast means no waiting for the bread to rise, so you can have fresh, warm buns on the table at a moment's notice.
Servings: 10
Serving Size: 1 roll (100g)
Prep Time: 10 minutes
Total Time: 45 minutes
Nutrition Facts: 282 calories / 44g carbs / 13g protein / 5.5g fat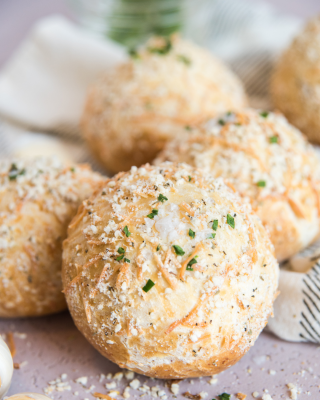 Ingredients:
For the Savory Streusel:
2 tablespoons (18g) flour
2 teaspoons (10g) sesame seeds
1 teaspoon garlic salt
½ teaspoon Italian seasoning
½ tablespoon butter (room temperature)
For the Dinner Rolls:
1 ½ cups (327g) full-fat cottage cheese
4 (200g) large eggs (divided)
2 tablespoons (24g) sugar
2 garlic cloves
1½ teaspoons apple cider vinegar
1 teaspoon baking soda
4 cups (500g) all-purpose flour
¼ cup (12g) fresh chives (finely chopped)
1½ teaspoon baking powder
½ teaspoon salt
¼ cup (25g) shredded Parmesan cheese
Instructions:
Preheat the oven to 350 degrees and line two baking sheets with parchment paper or silicone liners.
To make the savory streusel, combine 2 tablespoons of flour, sesame seeds, garlic salt, and Italian seasoning in a small bowl. Using your fingertips, rub the butter into the flour until the mixture takes on a crumbly, sand-like appearance. Cover and place in the fridge until ready to use.
To make the dinner rolls, place the cottage cheese, 3 of the eggs, sugar, and garlic in the bowl of a food processor and blend until smooth. In a separate bowl, stir together baking soda and vinegar (baking soda will fizz) and add to the cottage cheese mixture.
Whisk together flour, chives, baking powder, and salt in a large bowl. Add the cottage cheese mixture and, using your hands or a large spatula, work into a loose, shaggy dough.
Turn the dough out onto a lightly floured surface and gently knead until the flour is fully incorporated and the dough forms a smooth, cohesive ball. No need to go overboard here – because this bread is leavened with baking powder, not yeast, less is more when it comes to kneading.
Divide the dough into 10 equal-sized balls and place on prepared baking sheets, five to a sheet.
Make the egg wash. Lightly whisk the remaining egg with one tablespoon of water and brush a small amount on the surface of each roll. Sprinkle the rolls with parmesan cheese and top with a generous pinch of savory streusel.
Bake for 30-35 minutes, until the buns are puffed and golden brown. Serve warm, garnished with additional chives, if desired.
Notes:
These dinner rolls taste best warm from the oven, but can be reheated in the microwave on HIGH for 15-20 seconds
Rolls will keep in an air-tight container at room temperature for up to three days. Leftover rolls can be frozen for up to 3 months. To reheat frozen rolls, let thaw completely at room temperature and microwave for 15-20 seconds before serving.
To make a high protein garlic spread to serve with the rolls, blend any leftover cottage cheese with garlic salt and fresh chives (to taste). Macros not included.
---
Some of the links above are affiliate links, which may earn Macrostax a commission at no extra cost to you.