Looking for a quick meal that checks all the boxes? Our Cheesy Gnocchi with Chicken and Marinara is hearty, flavorful, perfect for picky eaters, and takes less than 15 minutes to prepare! Yes, yes, and yes. Serve with a side of steamed veggies or greens and you've got yourself a meal.
Servings: 4
Serving Size: about 1 cup (230g) gnocchi + 3oz (85g) chicken + 2 tablespoons Parmesan
Prep Time: 15 minutes
Nutrition Facts: 460 calories / 52.5g carbs / 38g protein / 10g fat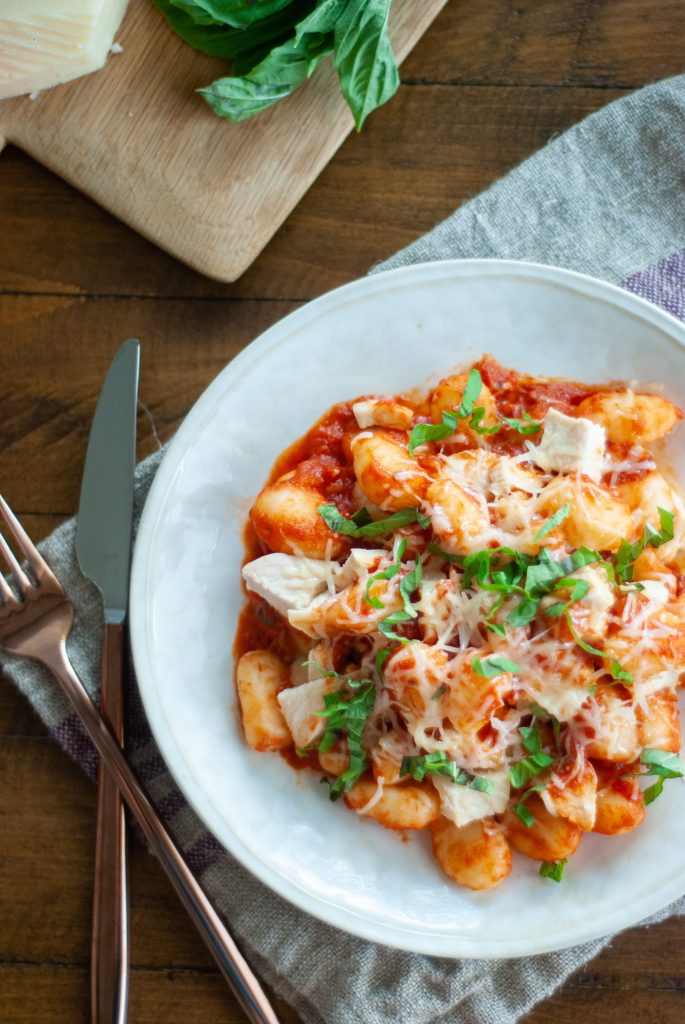 Ingredients:
1 package (500g) "Racconto" potato gnocchi
1 ½ cups "Bertolli" traditional marinara sauce
12 ounces cooked chicken breast (sliced or diced)
½ cup grated Parmesan
3 tablespoons chopped fresh basil (optional)
Instructions:
Boil the gnocchi per package directions.
Strain and return the gnocchi to the same pot. Add the marinara and toss to combine. Cook over medium heat until the marinara is warmed through, about 3-4 minutes.
Top the gnocchi with grated Parmesan, chicken and basil (if using.) Serve with a side salad or veggies if desired (macros not included.)
Notes:
Time saver tip: buy pre-cooked chicken breast or use rotisserie chicken breast.