Stuffed spaghetti squash makes for such a fun presentation. We love cooking the chicken ahead of time so this is a weeknight-friendly recipe that's low carb but seriously satisfying.
Servings: 4
Serving Size: ¼ spaghetti squash, filling only (583g)
Prep Time: 5 minutes
Total Time: 50 minutes
Nutrition Facts: 236 calories / 23g carbs / 27g protein / 14g fat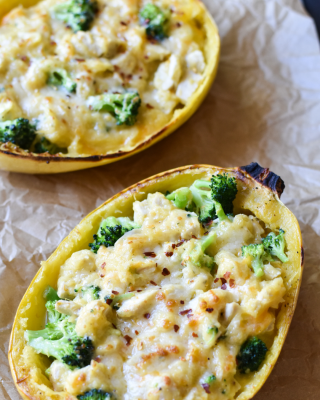 Ingredients:
1 medium (1140g) spaghetti squash (halved with seeds removed)
1 teaspoon olive oil
½ teaspoon salt
2 cups (142g) broccoli florets
8 ounces (227g) cooked chicken breast (diced)
¼ cup (57g) "⅓ less fat" cream cheese
¼ cup (57g) shredded medium cheddar cheese
1 teaspoon granulated garlic
2 tablespoons (28g) Parmesan cheese (grated)
Optional garnishes: red pepper flakes
Instructions:
Preheat the oven to 425 degrees F. Line a baking sheet with parchment paper.
Rub olive oil all over the inside of spaghetti squash halves and season with a pinch of salt. Transfer both halves to the baking sheet (cut side facing down). Roast for about 25-35 minutes or until the flesh is easily pierced. Once cool enough to handle, use a fork to pull out the flesh in long shreds (it should look like noodles). Transfer them to a large bowl and set the "shells" aside. Increase the oven temperature to broil.
Meanwhile, bring a medium saucepan of water to a boil. Add broccoli florets and simmer just until fork tender, about 4-5 minutes. Drain water and pat dry with paper towels. Add the hot broccoli to the bowl with the squash along with the chicken breast, light cream cheese, cheddar cheese, and granulated garlic. Use tongs to toss until everything is well incorporated. Season with salt and pepper to taste.
Divide the squash mixture between the two shells and place them back on the baking sheet. Top each half with 1 tablespoon Parmesan. Broil for 2-3 minutes until the top is browned and bubbly.
Please note that portion sizes for this recipe do not include the weight of the "boat" or outer shell, which we recommend against consuming.
Notes:
To save time, use rotisserie chicken or make your own baked chicken ahead of time. Try the Easy Lemon Chicken!
Pick up a bag of pre-washed and chopped broccoli to save time.
Be sure not to overcook the squash as it should be tender but not mushy so it holds up to the other ingredients.
---
Some of the links above are affiliate links, which may earn Macrostax a commission at no extra cost to you.