These Chicken Kebabs are summer on a plate! Chicken and fresh seasonal veggies are marinated in a tangy Paleo/Whole30 friendly lemon Dijon dressing and then grilled to golden perfection. Hint hint: this is the PERFECT recipe to zest up your Memorial Day!
Servings: 5
Serving Size: 2 skewers
Prep Time: 30 minutes
Total Time: 90 minutes
Nutrition Facts: 215 calories / 6.5g carbs / 22g protein / 11g fat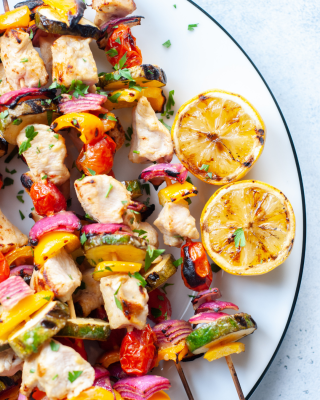 Ingredients:
1 lb (453g) chicken breast (cubed)
2 medium (228g) bell peppers (any color)
1 cup (149g) cherry tomatoes
1 medium zucchini (217g)
½ medium (64g) red onion
Marinade:
⅓ cup (81g) lemon juice
¼ cup (20g) Dijon mustard
3 tablespoons (41g) olive oil
½ teaspoon salt
Freshly ground pepper
Instructions:
Mix the marinade ingredients (lemon juice, mustard, olive oil, salt, and pepper) in a small bowl. Set aside 3 tablespoons of the marinade.
Slice the chicken into 1-inch cubes. Do the same with the onion and bell peppers. Slice the zucchini into thick slices. Add to a plastic gallon-sized zip-top bag along with the marinade (reserve the other 3 tablespoons for later) and seal tightly
Marinate in the refrigerator for at least 30 minutes and up to 3 hours. While the chicken and veggies are marinating, soak 10 wooden skewers in a shallow pan of water (if using metal skewers you can skip this step.)
When ready to assemble the kebabs, alternate veggies and chicken pieces on each skewer, making sure to fit about 3 pieces (45g) of chicken per skewer. Evenly distribute the onion, tomatoes, zucchini, and bell pepper between the chicken.
Heat the grill over medium-high heat. Place the skewers on the grill and cook for about 10-15 minutes, turning every 3-5 minutes. Brush with the reserved marinade about halfway through cooking. The kebabs are done when the chicken is no longer pink in the middle and the veggies have char marks.
Serve over a salad or alongside couscous or baked sweet potato (Paleo/Whole30 friendly).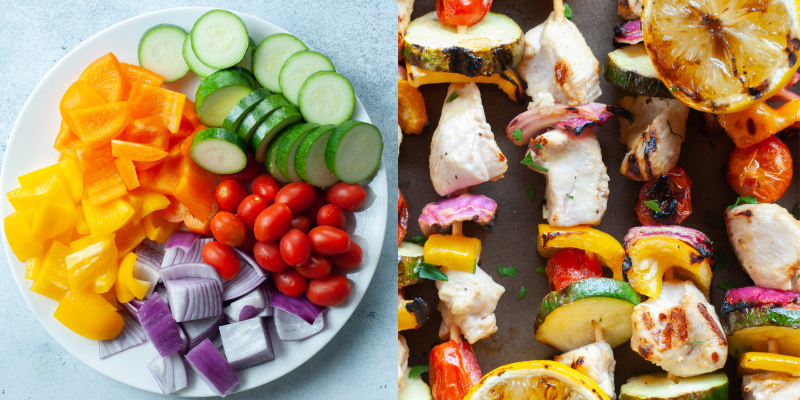 Notes:
You can also cook the skewers indoors using the "broil" setting on your oven. Place kebabs on a lined baking sheet and broil on high for about 5 minutes on each side, or until the chicken is cooked through.
Optional garnishes include grilled lemon halves and chopped parsley. If using lemons, slice in half and grill face-down along with the skewers until caramelized (about 3-5 minutes total).