We're revamping our super popular homemade kale pesto recipe in PIZZA form! Enter Chicken Pesto Pizza, made with a cauliflower crust, kale pesto, chicken, and mozzarella. Gettin' your greens in has never tasted so good!
Makes: 2 pizzas (12 slices)
Serving Size: 2 slices (150g)
Prep Time: 15 minutes
Total Time: 30 minutes
Nutrition Facts: 299 calories  / 30g carbs / 20g protein / 11.5g fat (for 2 slices)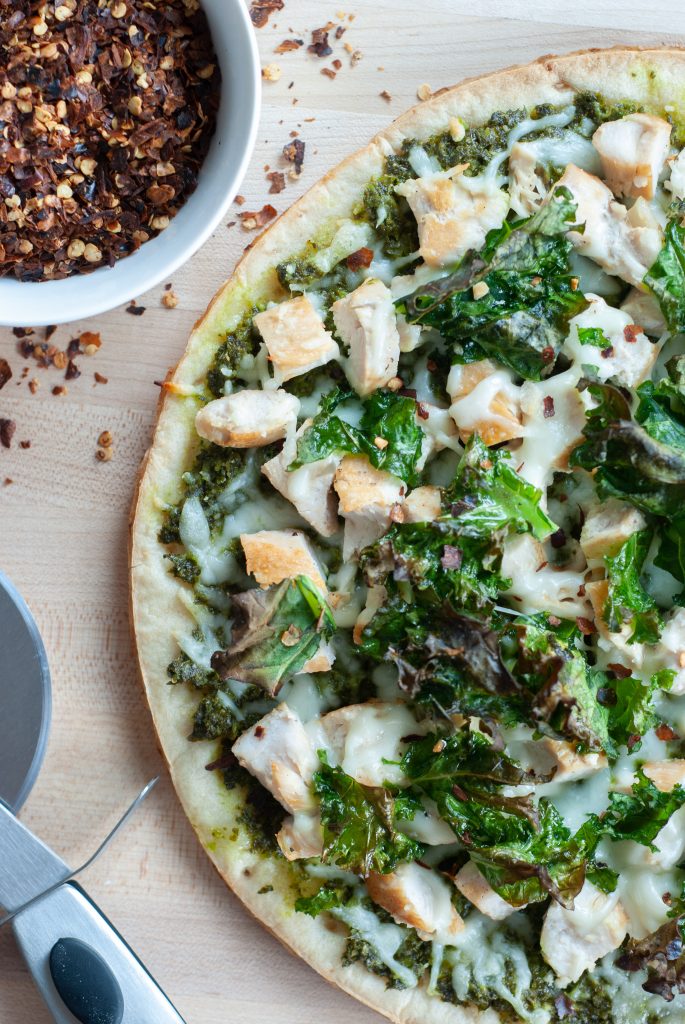 Ingredients:
Kale Pesto:
4 cups (64g) raw kale (stems removed, chopped)
3 cups (18g) fresh basil
¼ cup (54g) olive oil
3 garlic cloves
2 tablespoons (30g) lemon juice
¼ teaspoon salt
Pizza:
2 "Caulipower" cauliflower pizza crusts (345g)
1 cup (112g) "Kraft" low-fat shredded mozzarella cheese
3 cups (420g) cooked chicken breast (diced)
1 cup (16g) raw kale (stems removed, chopped)
Olive oil cooking spray
Optional: basil leaves or crushed red pepper flakes for garnish
Instructions:
Make pesto by adding 4 cups of the kale (reserve 1 cup for later), basil, olive oil, lemon juice, garlic, and salt to a food processor. Blend until smooth. Season to taste with additional salt and pepper.
Preheat oven to 425 degrees. Line a large baking sheet with foil or parchment paper, or use a pizza stone.
Place cauliflower crust (still frozen!) on the prepared sheets or pizza stone. Divide the pesto between the 2 pizza crusts and spread evenly, leaving a small border around the edges.
Distribute 1 ½ cups of chopped chicken onto each pizza, and top with ½ cup of shredded cheese per pizza.
Place the remaining 1 cup of kale in a small bowl. Spray evenly with cooking spray and sprinkle with salt. Toss to coat. Distribute the chopped kale pieces evenly over the 2 pizzas. Garnish with more basil leaves or red pepper flakes if desired.
Bake for 12-15 minutes or until cheese is melted and starting to brown. Slice each pizza into 6 slices. Enjoy!
Notes:
Time saver tip: buy pre-cooked chicken breast (such as "Butterball" fully cooked chicken breast or a rotisserie chicken) and pre-packaged chopped kale.
---
Some of the links above are affiliate links, which may earn Macrostax a commission at no extra cost to you.