Winner winner chicken dinner! Chicken Pot Pie is the ultimate winter comfort food – a warm, cozy meal that the whole family can get behind. And we're taking it to the next level by adding a cheesy herbed biscuit topping! This irresistible casserole takes less than 45 minutes from start to finish and is both meal prep and freezer-friendly.
Servings: 6
Serving Size: ⅙ of the dish, 2 biscuits (295g)
Prep Time: 20 minutes
Total Time: 35 minutes
Nutrition Facts:  553 calories / 48.5g carbs / 38.5g protein / 21.5g fat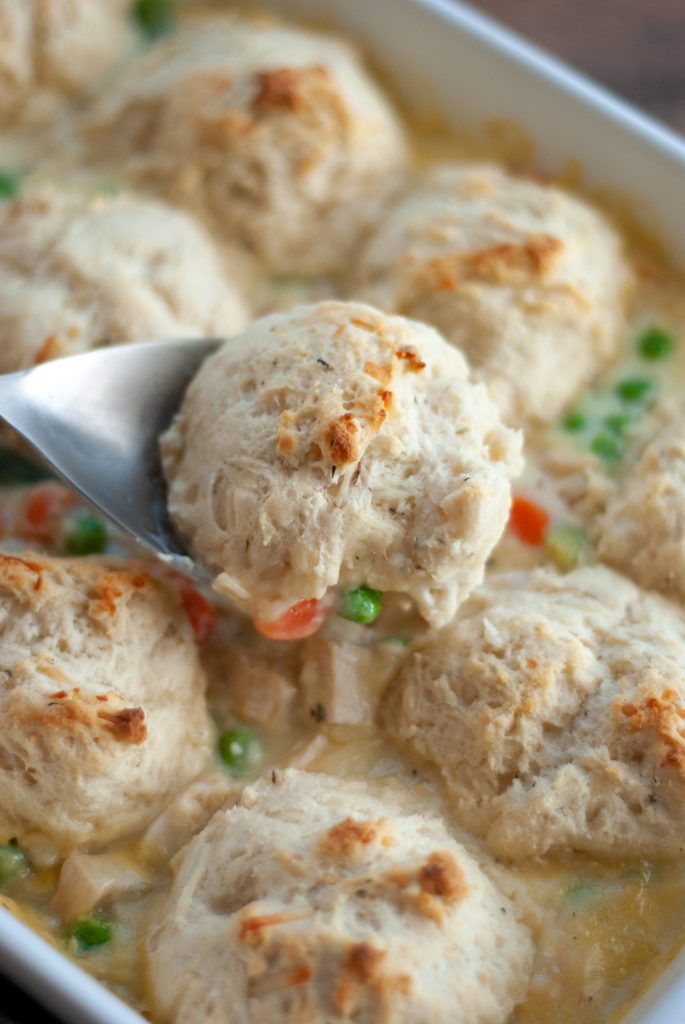 Ingredients:
1 tablespoon olive oil
¼ cup all-purpose flour
2 teaspoons dried rosemary or thyme, divided (or 6 tablespoons fresh)
2 cups 2% milk, divided
½ teaspoon salt
1 pound cooked chicken breast (diced)
1 10-oz package frozen mixed vegetables (we used "Bird's Eye")
1 10-oz can "Campbell's" 98% fat-free cream of chicken soup
½ cup fat-free chicken broth
2 ½ cups (1 package) "Zatarain's" buttermilk biscuit mix
6 tablespoons melted butter
½ cup grated Parmesan cheese
Instructions:
Preheat oven to 400 degrees. Prepare a 9×13-inch baking dish by spraying well with nonstick cooking spray.
Heat the olive oil over medium heat in a small saucepan. Add the flour and 1 teaspoon of the dried herbs and mix well with a whisk.
Slowly whisk 1 cup of the milk into the flour mixture. Continue to whisk continuously until the milk mixture is thickened and gently simmering, about 5 minutes. Don't worry if it's slightly lumpy.
Pour into a large bowl. Mix together with the chicken broth, cream of chicken soup, frozen vegetables, and diced chicken. Remove from the heat. Pour the chicken and veggie mixture into the prepared baking dish.
In a small bowl, mix together the biscuit mix, the remaining cup of milk, remaining teaspoon of dried herbs, melted butter, and Parmesan cheese with a fork. The dough will be thick.
Drop the biscuit dough by large rounded spoonfuls onto the pot pie mixture, spacing evenly (about every 1-2 inches, making 4 rows of 3). You should have 12 total biscuits.
Bake for 15-20 minutes until the biscuits are lightly browned and the pot pie is bubbling.
Notes:
Time saver tip: use pre-cooked chicken breast (find in the deli, frozen meat section, or buy a rotisserie chicken).
When portioning, a "biscuit" refers to the biscuit and the chicken/veggie mixture below.
---
Some of the links above are affiliate links, which may earn Macrostax a commission at no extra cost to you.