Melty cheese, shredded chicken, and black beans folded in a crispy golden brown tortilla. Recharge your macro batteries with this quick Chicken Quesadilla – all it takes is 10 minutes and 5 ingredients!
Servings: 1
Prep Time: 10 minutes
Nutrition Facts: 490 calories / 46.5g carbs / 37.5g protein / 16g fat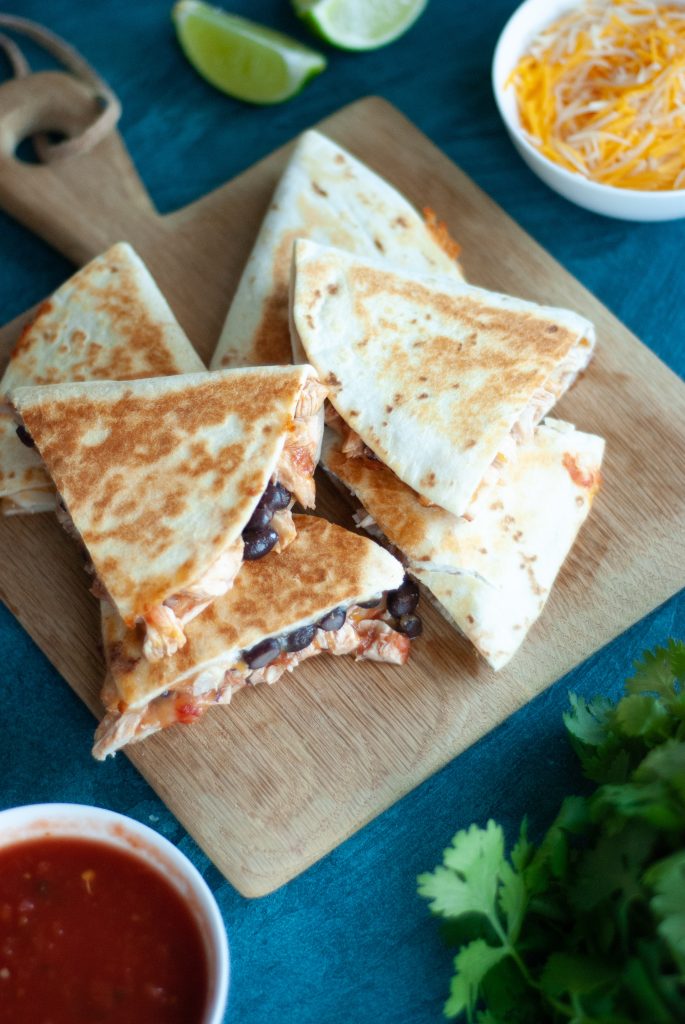 Ingredients:
2 ½ ounces (71g) cooked chicken breast (shredded or diced)
3 tablespoons (45g) black beans (rinsed and drained)
3 tablespoons (50g) salsa
1 10-inch "Mission" flour tortilla (72g)
⅓ cup (30g) shredded "Kraft" Mexican blend cheese
Instructions:
In a small bowl mix together the chicken, black beans, and salsa. Heat in the microwave for 30-45 seconds or until warmed through.
Sprinkle half of the cheese on one half of the tortilla. Top with the chicken mixture. Sprinkle with the remaining cheese. Fold in half.
Heat a non-stick skillet over medium heat. Spray with nonstick cooking spray. Place the quesadilla on the skillet and cook for 3-5 minutes, without turning, or until the underside is golden brown.
Flip and cook for another 2-3 minutes on the other side. The quesadilla is ready when the cheese is melted and the tortilla is golden and crispy.
Slice into wedges and enjoy with an extra side of salsa, sour cream, or guacamole (macros not included) if desired.
Notes:
Feel free to use any brand of cheese, salsa, and tortillas. The macros are generally very similar.
Time saver tip: buy pre-cooked chicken breast or use rotisserie chicken.