Our cozy Slow Cooker White Chicken Chili is the ultimate fall meal prep "dump 'n go" meal! Put the ingredients in your slow cooker (or Instant Pot) and walk away. That's it! This chili is lightly spiced and packed full of juicy shredded chicken, white beans, and corn. This bowl of deliciously creamy chili will be your new fall favorite.
Servings: 8
Serving Size: 1 ¼ cups (300g)
Prep Time: 15 minutes
Total Time: 4 hours
Nutrition Facts: 313 calories / 34.5g carbs / 36g protein / 4g fat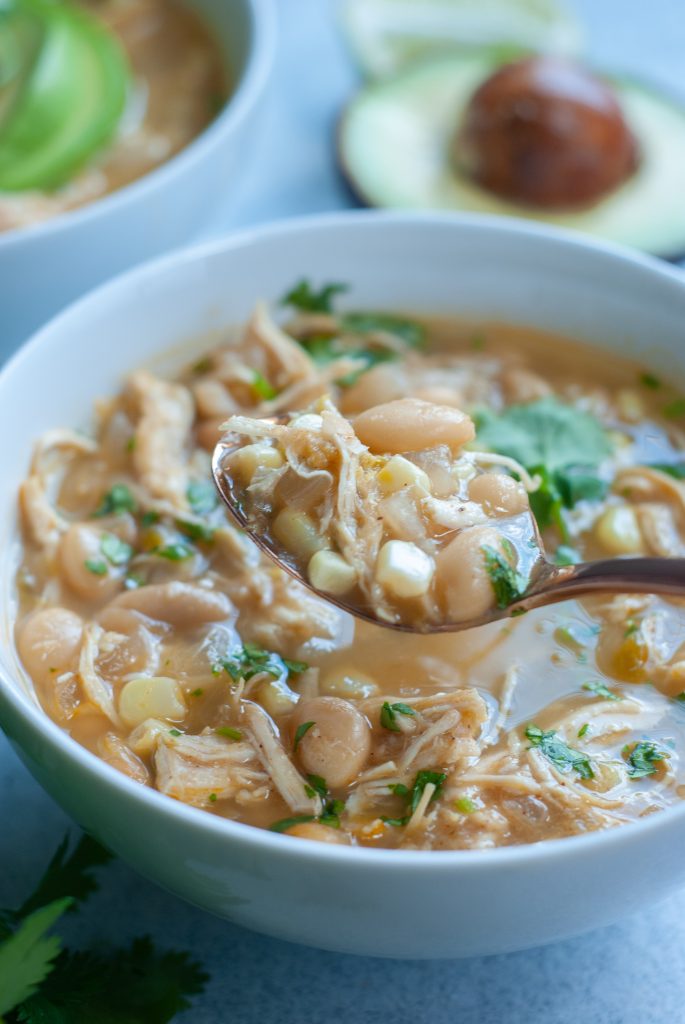 Ingredients:
2 lbs (907g) raw whole chicken breasts
2 (14.5-oz) cans (850g) Great Northern or Cannellini beans (rinsed and drained)
2 (4-oz) cans (227g) diced mild green chiles
3 cups (615g) fat-free chicken broth
1 large (128g) onion (diced)
1 tablespoon cumin
1 tablespoon ground coriander
1 teaspoon chili powder
1 teaspoon salt
1 ½ cups (248g) frozen corn
2 tablespoons fresh lime juice (about 1 lime)
Optional garnishes: tortilla strips, shredded cheese, fresh cilantro, lime wedges, sliced avocado (macros not included)
Instructions:
Place all ingredients (EXCEPT the corn and lime juice) in your slow cooker. Stir well.
Cook on low for 5-6 hours or high for 3-4 hours. The chili is ready when the chicken is tender and shreds easily with a fork.
Remove the chicken breasts from the slow cooker and set aside on a plate or cutting board.
Optional: if you like a creamier chili, remove about 1-2 cups of the broth/bean mixture and puree in a food processor or blender. Return to the slow cooker.
Shred the chicken breasts with 2 forks and return the meat to the slow cooker. Stir in the frozen corn and lime juice, replace the lid, and let heat through for another 10 minutes before serving.
Garnish with tortilla strips, cheese, sour cream or Greek yogurt, cilantro, or lime wedges if desired.
Notes:
This meal freezes really well! Place in an airtight container or freezer-safe bag and freeze for up to 3 months. Store leftovers in an airtight container in the refrigerator for up to 5 days.
Instant Pot instructions: place all ingredients (except corn and lime juice) in the Instant Pot. Set the pressure setting to "High" for 15 minutes. When complete, do a quick pressure release. Follow steps #3-6 as written above.
You can use either Great Northern or Cannellini beans. Great Northern beans are smaller and slightly more firm (and may hold up better in the slow cooker), whereas Cannellini are larger and softer.
---
Some of the links above are affiliate links, which may earn Macrostax a commission at no extra cost to you.