This light and tangy chicken salad sandwich is the ultimate weekday lunch for so many reasons. It's high in protein, low in fat, super easy to put together, and is even tastier on day 2. Meal prep here we come!
Servings: 1 sandwich (you will have leftover chicken salad)
Prep Time: 15 minutes
Nutrition Facts: 357 calories / 42g carbs / 37g protein / 4g fat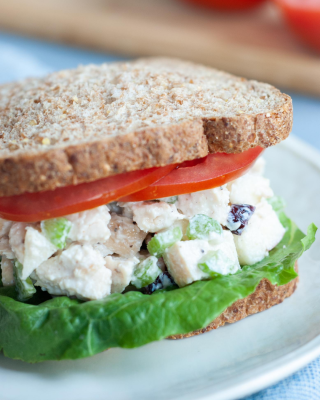 Ingredients:
Chicken salad:
12 oz (340g) cooked chicken breast (diced)
⅓ cup (76g) nonfat plain Greek yogurt
½ medium (91g) apple (finely diced)
½ cup (75g) finely diced celery
¼ cup (34g) "Craisins" original dried cranberries
¼ teaspoon salt
⅛ teaspoon pepper
To make sandwich:
2 slices Ezekiel bread
1 slice tomato
1 leaf Romaine lettuce
Instructions:
Mix the chicken salad ingredients together in a medium bowl. Season to taste with additional salt and pepper if desired.
Top a slice of bread with just under 1 cup (155g) of chicken salad. Garnish with lettuce, tomato, or any of your other favorite sandwich toppings (macros not included). Top with the remaining slice of bread.
Notes:
You can also enjoy the chicken salad as a lettuce wrap or alongside your favorite raw veggies.