Hello, fall! Whether you're bundling up or just dreaming of cooler weather, this homemade Pumpkin Protein Latte is just what you're looking for. Real pumpkin puree, pumpkin pie spice, and a boost of Optimum Nutrition's Collagen + Hyaluronic acid protein make this cozy latte extra special.
Servings: 1
Prep Time: 10 minutes
Nutrition Facts: 156 calories / 14.5g carbs / 24.5g protein / 0.5g fat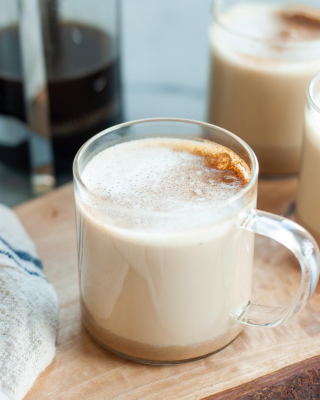 Ingredients:
6 ounces (184g) fat-free milk
4 ounces (113g) very strong coffee OR 1 shot espresso
2 tablespoons (30g) pumpkin puree
1 teaspoon (3g) brown sugar
¼ teaspoon pumpkin pie spice
1 scoop (21g) "Optimum Nutrition" unflavored Collagen + Hyaluronic Acid supplement
Optional garnishes: foamed milk, whipped cream, cinnamon, white chocolate chips (macros not included)
Instructions:
Heat the milk, coffee, pumpkin puree, sugar, and pumpkin pie spice in a small saucepan over medium heat, stirring often.
When steaming (but not boiling), remove from the heat, whisk in the collagen until no lumps remain, and pour into a mug. Top with your preferred garnishes.
Notes:
You can use any brand of collagen peptides for this recipe (macros per scoop may vary).
To make dairy-free use unsweetened almond milk instead of milk.
Adjust the quantity of brown sugar according to your taste. You can also substitute maple syrup, honey, or any other sweetener of your choice.
Stir periodically to prevent the pumpkin from settling to the bottom of your mug.
If you decide to use Optimum Nutrition products you can use code "MACROSTAX" for 20% off your purchase!
---
Some of the links above are affiliate links, which may earn Macrostax a commission at no extra cost to you.