This plant-based wrap is perfect for weekday lunches! It has all the flavor (and protein) of a classic BLT, plus a fresh twist thanks to hummus-avocado spread.
Servings: 1 wrap
Prep Time: 10 minutes
Nutrition Facts: 422 calories / 49g carbs / 18.5g protein / 17.5g fat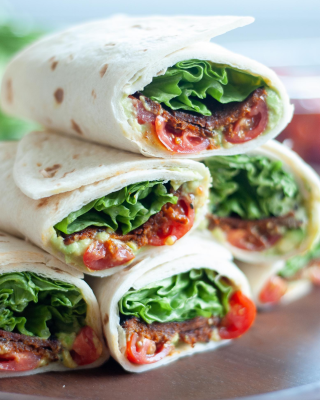 Ingredients:
2 slices "Sweet Earth" hickory and sage benevolent bacon
10-inch (72g) "Mission" flour tortilla
2 tablespoons (28g) "Sabra" classic hummus
⅙ (23g) of an avocado
1 leaf (6g) Romaine lettuce
1 slice (20g) fresh tomato
Instructions:
Prepare the benevolent bacon per package instructions.
Mix the hummus and avocado together in a small bowl.
Lay out the tortilla. Spread with the hummus-avocado mixture. Top with the cooked "bacon" slices, lettuce, and tomato. Roll up like a burrito.
Notes:
You can customize this recipe with any and all of your favorite veggies (macros not included here). Cucumber, carrots, sprouts, sliced red onion, or sliced bell peppers would all be delicious.