This light and tangy vinaigrette is lower in fat than traditional dressings and is perfect for salads or marinades. Fresh lemon, garlic, Dijon mustard, and honey are the stars of this recipe, a tart/sweet flavor combo that will tickle your taste buds.
Makes: ⅓ cup
Servings: 4
Serving Size: 4 teaspoons
Prep Time: 5 minutes
Nutrition Facts: 76 calories / 3.5g carbs / 0.5g protein / 7g fat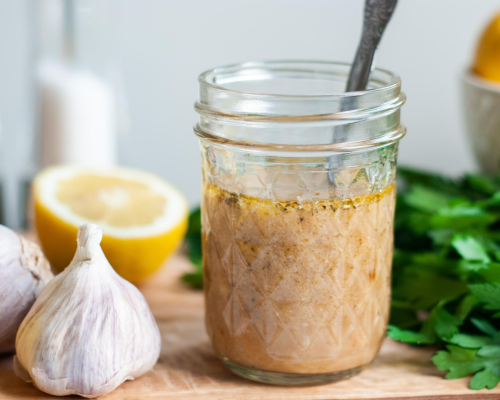 Ingredients:
2 tablespoons (27g) olive oil
2 tablespoons (10g) Dijon mustard
2 tablespoons (31g) fresh lemon juice
1 tablespoon (15g) red wine vinegar
2 teaspoons (14g) honey
1 garlic clove (minced)
¼ teaspoon Italian seasoning
Sprinkle of salt
Instructions:
Whisk all ingredients together in a small bowl. Or, place all ingredients in a small jar, secure the lid, and shake well.
Use as a salad dressing or poultry or seafood marinade.
Store in the refrigerator for up to a week.