These mighty muffins are a fresh take on classic banana bread. They're moist, fluffy, studded with mini chocolate chips, and powered with over 5 grams of protein! Each batch makes a whopping 18 muffins, perfect for stashing in your freezer for a quick breakfast or snack on the go.
Makes: 18 muffins
Serving Size: 1 muffin
Nutrition Facts: 124 calories / 15g carbs / 5.5g protein / 5g fat
Prep Time: 15 minutes
Total Time: 30 minutes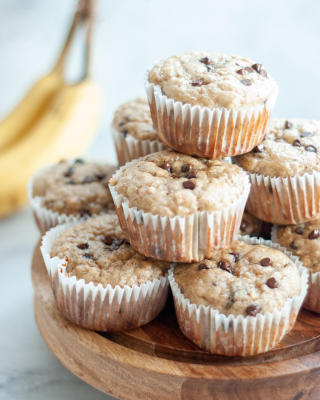 Ingredients:
3 medium (354g) banana (mashed)
½ cup (114g) nonfat plain Greek yogurt
2 eggs (100g)
3 tablespoons (42g) canola oil
1 tablespoon vanilla extract
¾ cup (94g) all purpose flour
½ cup (46g) quick oats
2 scoops (62g) "Optimum Nutrition" Gold Standard whey vanilla ice cream protein powder
1 teaspoon baking soda
1 teaspoon baking powder
1 teaspoon cinnamon
½ teaspoon salt
½ cup (112g) "Nestle Toll House" semi-sweet chocolate chips
Instructions:
Preheat the oven to 350 degrees and prepare two 12-cup muffin pans by lining with muffin liners or spraying well with nonstick spray. You will need to prepare 18 cups. If using muffin liners, mist them lightly with nonstick spray after placing them in the pan to prevent the paper from sticking to the muffins.
In a medium bowl mix together the wet ingredients (mashed banana, yogurt, eggs, oil, and vanilla.)
Add the dry ingredients (flour, oats, protein powder, baking soda, baking powder, cinnamon, and salt) and stir well, mixing just until the ingredients are combined. Fold in the chocolate chips.
Fill each muffin cup about ¾ full with batter. You should have enough batter for 18 muffins.
Bake for 11-13 minutes or until a toothpick inserted comes out clean. They will not brown like traditional banana bread – be careful not to overbake otherwise the muffins will dry out.
Store in an airtight container for up to a week or in the freezer for up to 3 months.
Notes:
You can use any neutral-flavored whey protein powder you have on hand for this recipe (macros will vary).
Feel free to substitute melted and cooled coconut oil, melted and cooled butter, grapeseed oil, or avocado oil for the canola oil (macros may vary slightly).
If you don't have 2 muffin pans (or don't have an oven large enough to bake both pans on the same oven rack at the same time), bake the muffins in separate batches. The second batch of muffins may be slightly more flat due to the extra lead time, but they will be equally as delicious!
If you decide to use Optimum Nutrition products you can use code "MACROSTAX" for 20% off your purchase!
---
Some of the links above are affiliate links, which may earn Macrostax a commission at no extra cost to you.