Take your rice to the next level with this delicious Taiwanese staple! Cooking rice in coconut milk imparts a rich, subtly sweet element that pairs perfectly with spicy curries, stews, and meat dishes.
Servings: 6
Serving Size: 2/3 cup (160g)
Prep Time: 2 minutes
Total Time: 30 minutes
Nutrition Facts: 245 calories / 48g carbs / 4g protein / 4g fat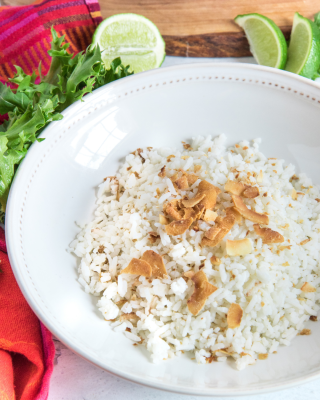 Ingredients:
2 cups (360g) uncooked long-grain white rice
1-400ml can (400g) lite coconut milk
1 cup water
½ teaspoon salt
Instructions:
Rinse rice with cold water until the water runs clear.
Place rice in a medium-sized, heavy-bottomed pot over medium-high heat with coconut milk, water, and salt. Once the mixture comes to a boil, give the pot a good stir and reduce heat to low. Cover and cook for 15 minutes.
After 15 minutes, turn off the heat and let the rice rest for an additional 10 minutes. Don't lift the lid, as this will allow all the steam to escape.
Fluff and serve. Garnish with fresh herbs and toasted coconut, if desired (macros not included).
Notes:
Don't be tempted to skip rinsing the rice. This step removes any excess starch and prevents rice from becoming gummy and mushy.
To make in a rice cooker or instant pot, use the same proportions and cook according to the manufacturer's instructions.
If brown rice is preferred, soak 2 cups of uncooked brown rice in cold water for at least 8 hours or overnight and proceed with the recipe as written.
If you prefer a sweeter rice, add 1-2 tablespoons of sweetener of your choice (macros will vary).
Leftover rice will keep covered in the fridge for up to three days. To reheat, place rice in a microwave-safe bowl, add a tablespoon of water for every cup of rice, and cover with a damp paper towel. Microwave on high for 1-2 minutes, stirring halfway through, until rice is heated throughout.
---
Some of the links above are affiliate links, which may earn Macrostax a commission at no extra cost to you.