Restaurant-style, right at home! Serve on its own as an appetizer, or pair with a healthy salad for a light lunch.
Servings: 5 servings
Serving Size: 5 shrimp (127g) plus 2 tablespoons (30g) dipping sauce
Prep Time: 10 minutes
Total Time: 30 minutes
Nutrition Facts: 323 calories / 36.5g carbs / 24.5g protein / 9g fat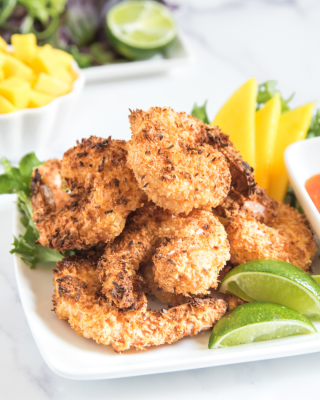 Ingredients:
Shrimp:
1 (50g) egg
1 (33g) egg white
¾ cup (64g) unsweetened shredded coconut
¾ cup (45g) panko bread crumbs
⅓ cup (43g) cornstarch
1 teaspoon salt
½ teaspoon cayenne pepper
½ teaspoon paprika
¼ teaspoon ground black pepper
1 ½ pounds (678g) raw jumbo shrimp, peeled and deveined with tails intact
Sauce:
10 tablespoons (150g) 'Thai Kitchen' sweet red chili sauce
Instructions:
Preheat the oven to 400 degrees and line a baking sheet with a silicone mat, parchment paper, or spray with nonstick cooking spray.
Lay out 2 large, shallow bowls. In the first bowl, beat together egg and egg white. In the second bowl combine the shredded coconut and panko bread crumbs. Set aside.
In a large resealable plastic bag combine the cornstarch, salt, cayenne pepper, paprika, and black pepper.
Rinse the shrimp and pat dry. Add shrimp to the bag with cornstarch and spices and shake well to coat.
Working one at a time, grab a shrimp by the tail and dust off any excess cornstarch. Dip in the beaten egg then roll in coconut mixture, making sure the whole shrimp is well-coated. Place on the prepared baking sheet and repeat until all shrimp are coated.
Bake for 15-20 minutes, or until the shrimp is firm to the touch and the coconut is nicely browned.
Serve with sweet red chili sauce and a squeeze of lime, if desired.
Notes:
Fresh or frozen shrimp can be used for this recipe but should be thawed prior to starting recipe preparation. This recipe calls for 1 ½ pounds of shrimp, which equals about 25 jumbo shrimp.
Coconut shrimp will keep covered in the fridge for up to 4 days, or can be frozen for up to six months. To reheat, pop shrimp in the oven at 300 degrees for 8-10 minutes or until heated throughout. If reheating from frozen, add an additional 2-3 minutes to heating time.
To make shrimp in an air fryer, preheat your fryer to 400 degrees. Air fry for 7 minutes, flip, and air fry for an additional 4 minutes.
For best results, set up the workspace like an assembly line moving straight from shrimp to egg wash, to coconut/panko mix, to baking sheet. This will reduce mess and improve efficiency!
Use a finer shredded coconut for best results. This adheres better to the shrimp and bakes more evenly.
---
Some of the links above are affiliate links, which may earn Macrostax a commission at no extra cost to you.