Looking for a party perfect dessert for the holiday season? HELLO Cookie Dough Dip! It's 100% edible, designed for dipping, and super shareable. The secret is in the chickpea and almond butter base that's flavored with brown sugar, vanilla, and chocolate chips. Grab your favorite dippers (we love Graham crackers or fresh fruit) and you've got a party!
Servings: 8
Serving Size: 4 tablespoons
Prep Time: 10 minutes
Nutrition Facts:  246 calories / 29.5g carbs / 5.5g protein / 11.5g fat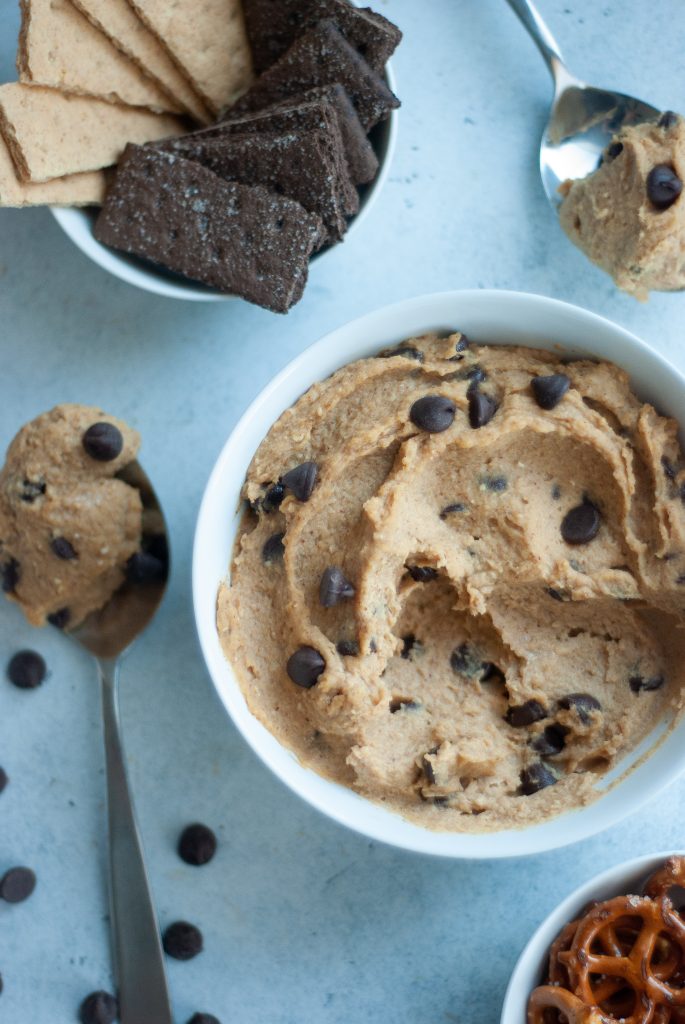 Ingredients:
1 can chickpeas (rinsed and drained well)
¼ cup natural almond butter
4 tablespoons brown sugar
3 tablespoons oats
2 tablespoons fat free milk
1 tablespoon vanilla
¼ teaspoon salt
½ cup semi-sweet chocolate chips (we used "Nestle Toll House" brand)
Instructions:
Blend all ingredients except for the chocolate chips together in a high-powered food processor. It may take 2-3 minutes of blending (and occasional stirring) to achieve the smooth consistency of cookie dough.
Scrape the dough into a medium bowl and fold in the chocolate chips until well combined.
Refrigerate at least 2 hours before consuming for best results. Enjoy with pretzels, graham crackers, fresh fruit, or plain.
Store leftover cookie dough in the refrigerator for up to 5 days.
Notes:
To make a dairy-free version of this cookie dough dip use unsweetened almond milk instead of the fat free milk, and a dairy-free brand of dark chocolate chips (such as "Guittard"). Macros per serving (4 tablespoons): 21C/4.5P/9F.
This dip is intended for uncooked consumption only. This recipe will not work if baked into cookies!
---
Some of the links above are affiliate links, which may earn Macrostax a commission at no extra cost to you.