The best of summer in one easy dish! The quality of your ingredients is really going to make this salad shine, so look for the freshest produce available or check out your local farmer's market.
Servings: 6
Serving Size: 1 cup (203g)
Prep Time: 15 minutes
Total Time: 30 minutes
Nutrition Facts: 222 calories / 36.5g carbs / 6.5g protein / 5.5g fat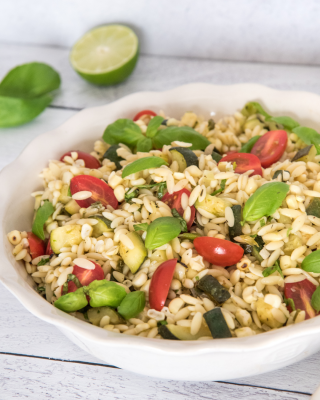 Ingredients:
6 ounces (170g) uncooked orzo pasta
2 tablespoon (14g) olive oil
2 cloves garlic (minced)
4 (60g) green onions (sliced)
3 medium (453g) zucchini (diced)
¾ teaspoon dried oregano
½ teaspoon dried thyme
1 ½ cups (248g) cooked corn
¼ cup (60g) fresh lime juice
1 teaspoon lime zest
¾ cup (109g) cherry tomatoes (halved)
Instructions:
Prepare orzo as directed on the package.
Heat olive oil in a large skillet over medium-high heat. Add garlic and green onions and sauté until soft and fragrant, about 2 minutes. Add zucchini, oregano, and thyme, and cook for 3-4 minutes, stirring occasionally, until the zucchini is tender. Season with salt and pepper.
In a large bowl, combine pasta, corn, and sautéed zucchini mixture. Stir in lime juice and lime zest. Allow the salad to come to room temperature before adding the tomatoes.
Season with additional salt and pepper to taste. Garnish with fresh herbs, such as basil, oregano, or thyme. Serve room temperature or chilled. Enjoy as a side or alongside your favorite protein (we recommend our smoky baked chicken breast).
Notes:
This dish is meant to highlight fresh corn. This can be roasted, grilled, or steamed, prior to use in this dish, as desired. If the fresh variety is unavailable, use canned or frozen fire-roasted corn. Macros will vary.
Make this pasta salad up to 24 hours ahead of time by omitting the tomatoes and optional fresh herbs, adding just before serving. Leftovers will keep refrigerated in an airtight container for up to 3 days.