Crab cakes are totally doable at home. This recipe calls for pre-cooked (canned) crab meat for convenience without sacrificing any of the great flavor.
Servings: 5
Serving Size: 2 crab cakes with sauce (29g sauce, 120g crab cakes)
Prep Time: 10 minutes
Total Time: 40 minutes
Nutrition Facts: 230 calories / 11.5g carbs / 23g protein / 10g fat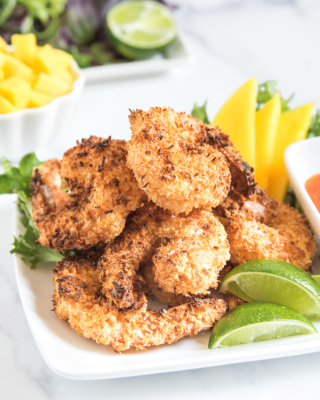 Ingredients:
Crab Cakes:
16-ounces (454g) "Chicken of the Sea" premium real crab meat
¾ cup (68g) panko bread crumbs
1 large (50g) egg (beaten)
2 tablespoons mayonnaise
1 tablespoon Dijon mustard
1 tablespoon fresh parsley (finely chopped)
1 teaspoon Worcestershire sauce
1 teaspoon Old-Bay seasoning
1 tablespoon olive oil
Lemon Cream Sauce:
½ cup (108g) light sour cream
3 tablespoons lemon juice
1 tablespoon lemon zested
1 clove of garlic (minced)
Instructions:
Line a sheet pan with parchment paper and set aside.
Combine crab meat, panko bread crumbs, egg, mayonnaise, Dijon, parsley, Worcestershire, and Old Bay seasoning in a large bowl and gently mix (avoid over-stirring or they could fall apart when cooking). Divide into 10 small cakes (about a heaping ¼ cup each) and place on the lined sheet pan. Refrigerate for 20 minutes.
Meanwhile, make the sauce. Mix sour cream, lemon juice, lemon zest, and garlic. Season with salt and pepper to taste.
Heat olive oil in a large nonstick skillet. Cook crab cakes until browned on both sides (about 3 minutes per side), then transfer to a plate.
Enjoy crab cakes plain, over a bed of greens, or in a sandwich (macros will vary).
Drizzle with lemon cream sauce just before serving.
Notes:
Find the canned crab meat, which will be refrigerated, in the fish and seafood section of your grocery store. This variety is pre-cooked and ready-to-eat.
---
Some of the links above are affiliate links, which may earn Macrostax a commission at no extra cost to you.