Fresh, ripe cranberries and a zesty citrus glaze promise the perfect balance of tart and sweet in this easy-to-make quick bread! It might look like it has a lot of components, but it has minimal hands-on time and we promise the final product is worth the extra two or three steps. Friends and family will be clamoring for a slice (but we won't tell them it's protein-rich and full of high fiber, heart-healthy ingredients if you don't!).
Servings: 10
Serving Size: 1 slice (115g)
Prep Time: 20 minutes
Total Time: 1 hour 20 minutes
Nutrition Facts: 280 calories / 42.5g carbs / 7.5g protein / 9g fat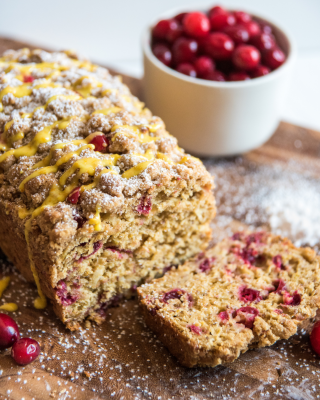 Ingredients:
2 ⅓ cup (280g) white whole wheat flour (divided)
11 tablespoons (99g) brown sugar (divided)
¾ teaspoon salt (divided)
3 tablespoons (43g) unsalted butter (softened)
¼ cup (26g) ground flaxseed
1 tablespoon baking powder
¼ teaspoon nutmeg
¾ cup (170g) low fat cottage cheese (room temperature)
½ cup (123g) nonfat milk (room temperature)
1 (50g) egg (room temperature)
2 tablespoons (28g) canola oil
3 ½ teaspoons orange zest (divided)
1 teaspoon vanilla extract
1 medium (182g) apple (grated)
1 cup (100g) coarsely chopped fresh or frozen cranberries (do not thaw if frozen)
2/3 cup (80g) powdered sugar
1 ½ teaspoons orange juice
Instructions:
In a small bowl, stir together ⅓ cup flour, 3 tablespoons brown sugar, and ¼ teaspoon salt. Add the softened butter and work into the mixture by rubbing between your fingers until a crumbly consistency is reached. Cover and place in the fridge until ready to use.
Preheat the oven to 350 degrees F. Grease and line a 9X5 loaf pan with enough parchment paper to leave a 1-inch overhang on each side
In a large bowl, whisk together the remaining 2 cups flour, flaxseed, baking powder, ½ teaspoon salt, and nutmeg.
In the bowl of a food processor or blender, blend cottage cheese, milk, the remaining 8 tablespoons (½ cup) brown sugar, egg, canola oil, 3 teaspoons orange zest, and vanilla until smooth. Add to the dry mixture along with grated apple and chopped cranberries and stir until just combined (don't over-mix). Batter will be thick.
Pour batter into the prepared baking pan and sprinkle the top with streusel. Bake for 50-60 minutes until a toothpick inserted in the center comes out clean. Cool for 10-15 minutes before removing from the pan and transferring to a wire rack to cool completely.
Sift powdered sugar into a small bowl and add juice and the remaining ½ teaspoon zest. Stir to combine then drizzle over the loaf with a spoon.
Notes:
To make this recipe into muffins, divide batter and streusel evenly between 10 greased or paper-lined muffin cups. Preheat the oven to 425 degrees F and bake for 5 minutes. Without removing the muffins, reduce temperature to 350 degrees and continue to bake for an additional 15-17 minutes, until a toothpick inserted in the center comes out clean. Allow muffins to cool completely then drizzle with icing and serve.
Loaf will keep at room temperature in an airtight container for 1 day or in the fridge for up to 1 week. For longer storage, the unglazed loaf can be wrapped and frozen for up to 3 months. Thaw in the fridge overnight and bring to room temperature before serving.
Although a food processor or blender is recommended for this recipe, it is not strictly necessary. Whisking the wet ingredients together is perfectly fine, so long as you are aware there will be visible curds of cottage cheese in the loaf.
---
Some of the links above are affiliate links, which may earn Macrostax a commission at no extra cost to you.