Easy meets healthy for this high protein Dressed Up Lentil Soup! We're taking a simple store-bought canned lentil soup and adding all kinds of goodies to transform it into a filling and fancy feelin' plant-based meal. Enjoy this soup as an entree or side, lunch or dinner. You can do anything with 10 minutes!
Servings: 2
Serving Size: about 1 ¾ cups (420g)
Prep Time: 10 minutes
Nutrition Facts:  334 calories / 43.5g carbs / 18.5g protein / 9g fat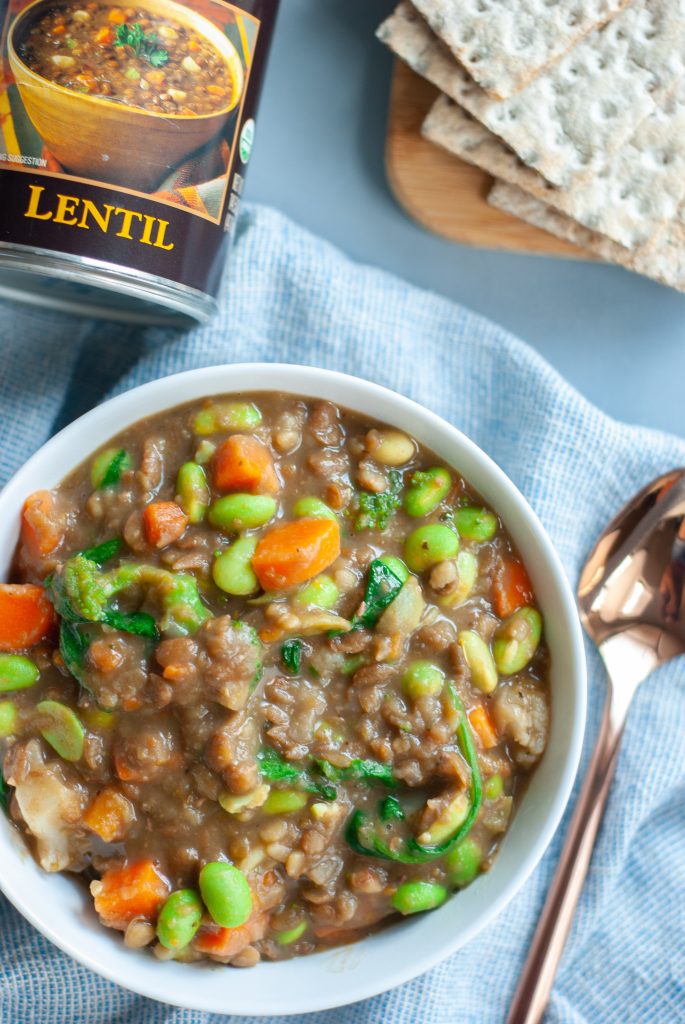 Ingredients:
1 20-oz (567g) can "Amy's" lentil soup
1 cup (87g) "Bird's Eye" frozen mixed broccoli, cauliflower, and carrots
1 cup (155g) shelled frozen edamame
1 teaspoon Italian seasoning
½ teaspoon garlic powder
Salt and pepper to taste
Optional: 1 cup baby spinach
Instructions:
Heat the soup in a medium saucepan over medium-high heat along with the frozen veggies, edamame, spinach (if using), and seasonings.
The soup is ready when it's warmed through and simmering, about 10 minutes. Season to taste with salt and pepper.