Who has time to make individually breaded Chicken Parmesan? Not us! Our Easy Chicken Parmesan Bake has all the delicious crusty cheesy-ness that we know and love, with a fraction of the effort (and no gluten to speak of!). This casserole-style take on an Italian classic will have you and your family coming back for more all week long.
Servings: 6
Serving Size: 3.75 oz (105g) chicken + ¼ cup (57g) sauce
Prep Time:
Total Time:
Nutrition Facts:  302 calories / 10g carbs / 35g protein / 12.5g fat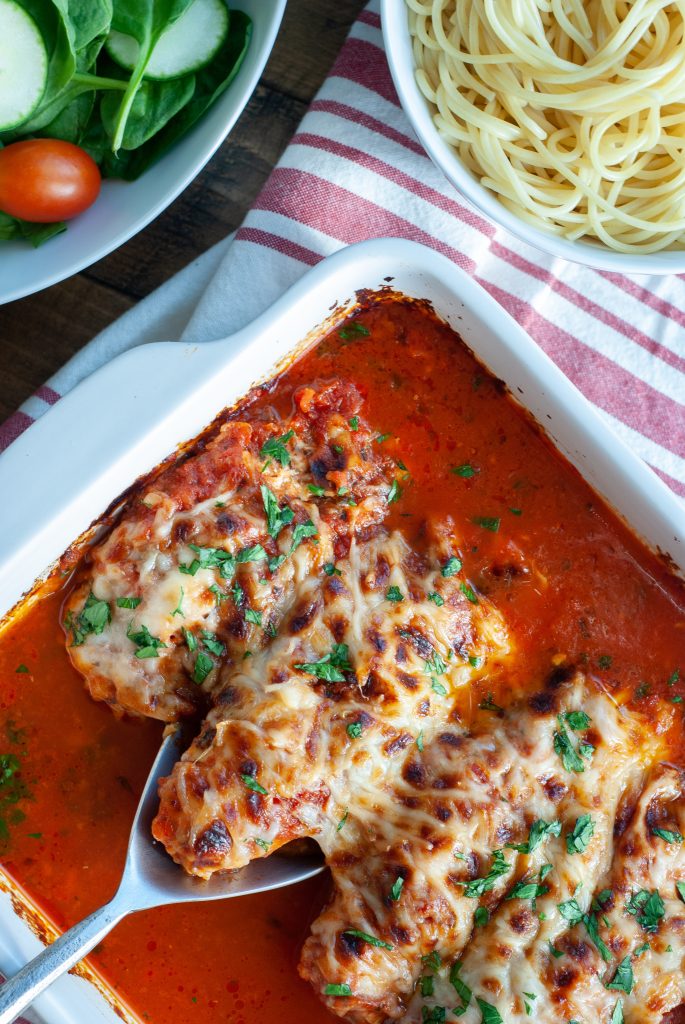 Ingredients:
1 ½ lb (680g) raw chicken breasts (sliced in half lengthwise)
1 ½ cups (375g) "Bertolli" traditional marinara sauce
2 teaspoons Italian seasoning
¼ teaspoon salt
1 cup (112g) shredded part-skim mozzarella cheese
½ cup (56g) shredded Parmesan cheese
Instructions:
Preheat oven to 350 degrees and spray a 9×13-inch baking dish with nonstick cooking spray.
Spread ½ cup of marinara sauce on the bottom of the dish. Top with the sliced chicken breasts. Sprinkle the chicken evenly with Italian seasoning and salt.
Top with the remaining 1 cup of marinara sauce. Sprinkle with the mozzarella and Parmesan.
Cover with foil and bake for 20 minutes. Remove the foil and bake for another 10 minutes or until the cheese is melted and the chicken is cooked through. Broil for 2-4 minutes if you like a golden brown cheesy crust (optional.)
Serve over pasta or spiralized veggie noodles, or alongside bread or salad. You could also serve extra marinara along with the Chicken Parmesan if desired (macros not included.)
Notes:
This meal is freezer friendly – store the cooked chicken and sauce together in a freezer-safe zip-top bag or container in the freezer for up to 3 months. Thaw overnight in the refrigerator before reheating and serving.
---
Some of the links above are affiliate links, which may earn Macrostax a commission at no extra cost to you.