This Easy Thai Chicken Curry is our new meal prep obsession: it's just as easy, twice as healthy, and cheaper than takeout. What's not to love?! This quick recipe comes together in 30 minutes and will make even a newbie cook feel like a seasoned pro.
Servings: 6
Serving Size: about 1 cup (268g)
Prep Time: 10 minutes
Total Time: 30 minutes
Nutrition Facts: 242 calories / 14g carbs / 27g protein / 8g fat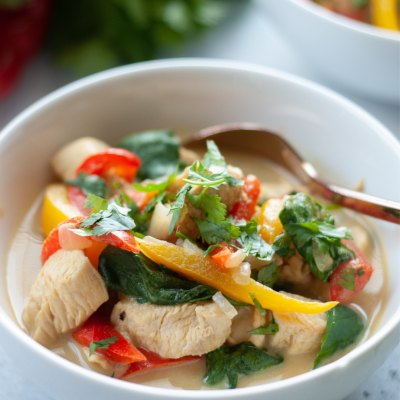 Ingredients:
1 teaspoon olive oil
1 cup (240g) diced yellow onion
3 cups (405g) thinly sliced bell peppers (about 2 large)
1 tablespoon ground ginger
1 ½ lb (680g) raw chicken breast (diced into ½-inch cubes)
1 4-oz jar "Thai Kitchen" green curry paste
1 14-oz can (397g) light coconut milk
¼ teaspoon salt
2 cups (60g) baby spinach
Instructions:
Heat olive oil over medium heat. Add the onions, peppers, and ground ginger to the pan and saute until the onions are translucent, about 5-7 minutes.
Turn the heat up to medium-high and add the chicken to the pan. Cook, stirring often, for about 5 minutes or until the chicken is no longer pink.
Add the curry paste to the pan and stir well. Cook for 1-2 minutes.
Add the coconut milk and salt and stir well. Bring to a boil, turn down the heat to low, and cover the pot. Simmer for about 5 minutes or until the chicken is just cooked through.
Stir in the spinach and remove the pot from the heat. Cover for 2-3 minutes to allow the spinach to wilt.
Serve over brown rice, white rice, cauliflower rice, or quinoa. Garnish with chopped cilantro if desired!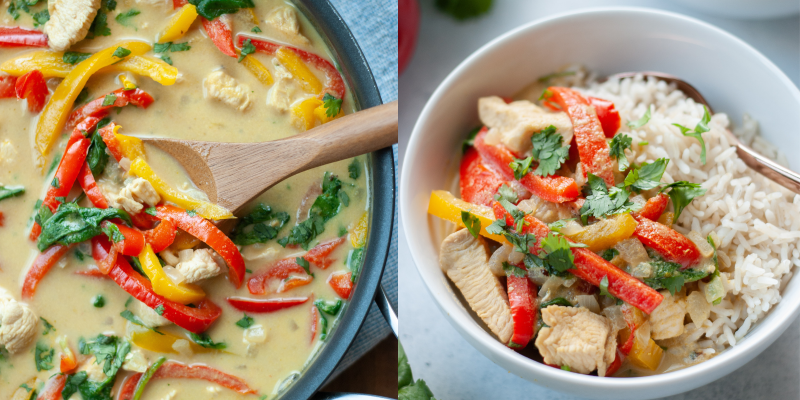 Notes:
To make this curry spicier use "Thai Kitchen" spicy red curry paste instead (starting with 2-3 tablespoons and increasing from there.) Or, add cayenne pepper to taste.