This taco-inspired cauliflower "rice" is the coolest lower carb kid on the block! It has the texture of rice, the nutrient benefits of cauliflower, and all the Tex Mex flavor you've been looking for. Try it alongside tacos, in a burrito bowl, or atop a salad along with chicken, beef, pork, or beans. You can use either fresh whole cauliflower, pre-made riced cauliflower, or frozen riced cauliflower in this recipe- check out the recipe notes below for all the deets!
Servings: 4
Serving Size: just over ¾ cup (118g)
Prep Time: 5 minutes
Total Time: 20 minutes
Nutrition Facts: 88 calories / 14g carbs / 2.5g protein / 2g fat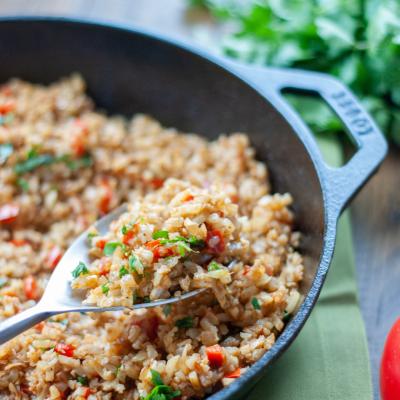 Ingredients:
4 cups (400g) fresh riced cauliflower
⅓ cup (80g) finely chopped yellow onion
1 small red bell pepper (114g) (finely chopped)
2 tablespoons "McCormick" taco seasoning
1 teaspoon olive oil
Optional garnishes:
1 lime, juiced
¼ cup (4g) chopped fresh cilantro
Instructions:
Heat the olive oil in a skillet over medium-high heat. Add the finely diced onion and bell pepper and sauté for 5-10 minutes or until softened. Add the riced cauliflower and taco seasoning and stir well.
Sauté the cauliflower mixture over medium-high heat for 2-3 minutes, cover, and cook for an additional 5-7 minutes or until just softened.
Remove from heat and stir in the fresh cilantro and lime juice (if using). Season to taste with salt and pepper.
Serve alongside your favorite tacos or make a burrito bowl of it! YUM.
Notes:
You can find fresh riced cauliflower in the refrigerated section of the produce department in most grocery stores. To make your own, de-stem a head of cauliflower, cut into pieces and then pulse in a food processor until the cauliflower resembles couscous.
You can also use frozen riced cauliflower. Defrost the cauliflower completely before using. Wring out the excess moisture by squeezing firmly with paper towels or a dish towel, and then proceed with recipe as written.
Use any taco seasoning you prefer (or, substitute with 1 teaspoon chili powder and 1 tablespoon cumin).