No need to skip the gravy anymore with this fat free version! Chicken stock is sauteed with onions and mushrooms and all the aromatic herbs we could find for a delicious way to dress up any holiday dinner.
Makes: 8 servings
Serving Size: 1/4 cup (60g)
Prep Time: 15 minutes
Total Time: 30 minutes
Nutrition Facts:  22 calories / 4g carbs / 1g protein / 0g fat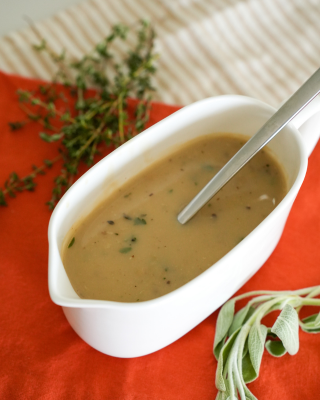 Ingredients:
1 clove garlic (minced)
½ cup (105g) onion (finely chopped)
½ cup (36g) Baby Bella or cremini mushrooms (finely chopped)
2 tablespoons (3g) fresh parsley (finely chopped)
1 tablespoon (3g) fresh sage (finely chopped)
1 tablespoon (3g) fresh thyme (finely chopped)
2 cups (480g) low sodium chicken broth
2 tablespoon cornstarch
½ cup (120g) non-fat milk
Salt and pepper to taste
Instructions:
Heat a non-stick saucepan over medium heat and saute the garlic, onion, mushrooms, parsley, sage, and thyme. Season with salt and pepper to taste.
In a separate mixing bowl, combine cornstarch with ½ cup chicken broth and stir until smooth.
Add to the saucepan along with remaining chicken broth and milk
Bring to a boil, stirring occasionally. Heat for 2-3 minutes, until consistency thickens, and remove from heat.
Optional: strain gravy through a fine mesh strainer to remove herbs, onions, and mushrooms if you prefer a completely smooth gravy sauce. Gravy can also be eaten as is if you prefer some veggies in your sauce!