Grilled flank steak is paired with a creamy garlic-herb yogurt dip and fresh vegetables for a light and flavor-packed sandwich that is reminiscent of the Medtierranean. This sandwich is simple, fresh, and easy, making it perfect for a weeknight, but also delicious enough to serve at a weekend celebration.
Servings: 4
Serving Size: 1 sandwich with 3 ounces cooked flank steak, 1 naan bread (50g), 3 tablespoons yogurt dip (56g), heaping ¼ cup tomato-cucumber salad (43g), 1 lettuce leaf
Prep Time: 10 minutes
Total Time: 30 minutes + marinating time
Nutrition Facts: 426 calories / 31g carbs /40.5g protein /14g fat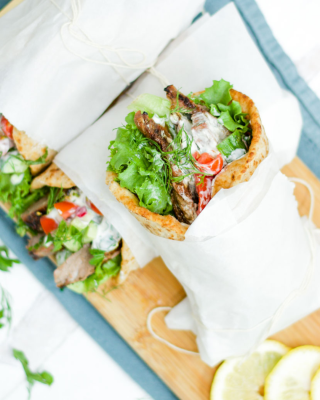 Ingredients:
For the Steak:
¼ cup chopped fresh herbs such as thyme, oregano, mint, and rosemary
2 tablespoons balsamic vinegar
1 teaspoon olive oil
2 garlic cloves (pressed)
½ teaspoon salt
1 pound flank steak
For the Greek yogurt sauce:
¾ cup (190g)plain nonfat Greek yogurt
¼ cup (35g) English cucumber (finely chopped)
1 tablespoon chopped fresh dill
1 tablespoon chopped fresh mint
1 tablespoon lemon juice
1 ½ teaspoons fresh lemon zest
1 garlic clove (pressed)
¼ teaspoon salt
Tomato Cucumber Salad:
½ cup (78g) cherry tomatoes (quartered)
½ cup (75g) cucumber (diced)
3 tablespoons (24g) finely chopped red onion
Naan Bread:
4 (200g) "Stonefire" original mini naan
Instructions:
Whisk together fresh herbs, vinegar, oil, garlic, and salt. Pour over steak and marinate in the fridge for at least 1 hour, up to 24 hours.
Preheat your grill to medium (if no grill, see notes).
When the grill is hot, place the steak on the grill and cook for 5 minutes per side (for medium doneness). When it's done, remove the steak and let it "rest" on a cutting board for 10 minutes. Slice thinly for the sandwiches.
While the steak is cooking, make the yogurt dip. In a small bowl, combine yogurt, cucumber, lemon juice, lemon zest, garlic, dill, mint, and salt. Refrigerate while the steak is cooking.
Mix the tomatoes, cucumbers, and onion together in a small bowl.
To assemble the gyros, place sliced steak on top of the open naan bread and top with tomato-cucumber salad, lettuce, and yogurt sauce.
Notes:
If a grill is unavailable, sear the steak on a grill pan or cast iron pan on the stove, or broil in the oven. Cooking times will vary.
Steak can be cooked up to 24 hours in advance (store in the fridge) and sandwiches can be served cold or warm.
Recommend using green leaf or butter lettuce varieties in this recipe. Lettuce not currently listed in ingredients but macros are negligible.