This one-skillet meal is bursting with Greek-inspired flavors, including sun-dried tomatoes, garlic, olive oil, oregano, and spinach. Depending on the rice used, it can easily be prepared in 30 minutes or less.
Servings: 4
Serving Size: 1 ½ cups (251g)
Prep Time: 10 minutes
Total Time: 30 minutes
Nutrition Facts: 383 calories / 44g carbs / 29g protein / 14g fat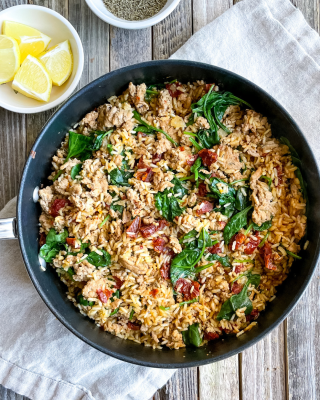 Ingredients:
1 tablespoon olive oil
1 large (43g) shallot (minced)
1 pound (454g) 93% lean ground turkey
2 cloves (6g) garlic (minced)
1 teaspoon salt
1⁄2 teaspoon ground black pepper
1⁄2 teaspoon dried oregano
1⁄3 cup (24g) "Mezzetta" sun-ripened dried tomatoes (chopped)
1 cup (192g) "Uncle Ben's" uncooked whole grain brown rice
2 1/4 cups (561g) chicken broth
2.5 ounces (70g) fresh baby spinach
1 tablespoon fresh lemon zest (about 1 medium lemon)
¼ cup (61g) fresh lemon juice
Instructions:
In a large, deep skillet over medium heat, add the olive oil. Once the oil is hot, add the shallot and saute for 2 minutes, or until soft. Add the ground turkey, garlic, salt, pepper, and dried oregano. Cook until the turkey is browned, but not cooked through, about 3 minutes.
Stir in the sun-dried tomatoes, brown rice, and chicken broth. Increase the heat to medium-high and bring to a boil. Once boiling, cover the skillet with a lid and reduce the heat to a simmer. Cook for 20 minutes, or until the rice is tender.
Remove the lid and stir in the baby spinach, lemon zest, and lemon juice. Cook for 2-3 minutes, or until the spinach is wilted. Taste and adjust seasonings as needed. Serve immediately.
Notes:
Store leftovers in an airtight container for up to 4 days.
Follow package directions for the brand of rice used. Depending on the brand, the rice may need to cook for an additional 10-20 minutes.
To make this skillet vegan, replace the ground turkey with canned chickpeas or crumbled tofu and use vegetable broth. Macros will vary.
If not dairy-free, option to add a sprinkle of feta cheese before serving (macros not included).