The perfect side dish for your holiday table, these green beans with cranberries and walnuts are light and fresh, yet oh so very satisfying. They come together in a matter of minutes, which means more time for celebrating and less time in the kitchen.
Servings: 4
Serving Size: 90g/3.2 oz
Prep Time: 10 minutes
Total Time: 10 minutes
Nutrition Facts: 106 calories / 17g carbs / 2g protein / 4g fat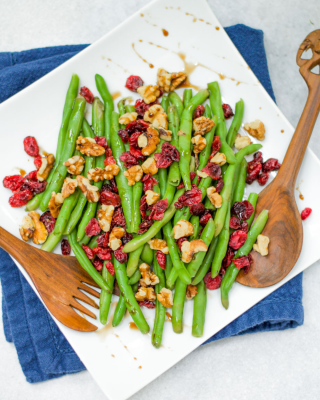 Ingredients:
12-ounces (340g) green beans (trimmed)
½ teaspoon salt
⅓ cup (54g) dried cranberries
¼ cup (23g) walnut halves (roughly chopped)
Drizzle of balsamic glaze for serving (optional)
Instructions:
Steam green beans in microwave or on stove top for 3-5 minutes, until cooked, but still crispy
Place cooked green beans on a platter, toss with salt. Then top with cranberries, walnuts, and optional drizzle of balsamic glaze (macros will vary for glaze).
Notes:
Store leftovers in the fridge for up to 3 days. Leftovers can be served cold.
Balsamic glaze is available as a pre-made product in most grocery stores.