Pile on those veggies with this grilled veggie panini. Stacked with meaty eggplant and portobellos plus sweet grilled onions and zucchini, paired with creamy goat cheese, this sandwich is super satisfying and filled with nutritious ingredients.
Servings: 4
Serving Size: 1 sandwich (275g)
Prep Time: 10 minutes
Total Time: 25 minutes
Nutrition Facts: 391 calories / 53g carbs / 16g protein / 12g fat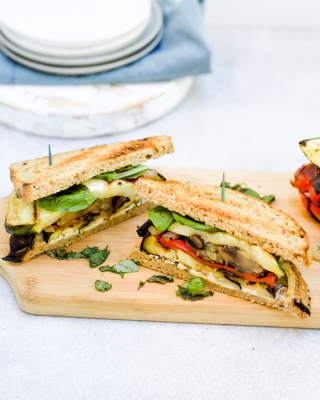 Ingredients:
8, ½-inch thick slices (283g) eggplant
1 medium (143g) red bell pepper (cored and sliced into 4 even slices)
2 portabella mushroom caps (190g)
1 large (278g) zucchini (ends removed sliced lengthwise into 4 even slices)
4, ¼-inch thick yellow onion slices (174g)
1 tablespoon olive oil
2 tablespoons (32g) balsamic vinegar
¼ teaspoon salt
2 ounces (57g) goat cheese
8 slices (336g) "Dave's Killer" powerseed bread
Optional garnish: fresh basil
Instructions:
Preheat the grill to medium heat.
Place cut vegetables in a large mixing bowl. Whisk together oil, vinegar, and salt and drizzle over vegetables, tossing to coat evenly.
When the grill is hot, place veggies on the grill. Please see notes section if using the oven for preparation. If available, use a grill basket for smaller pieces (such as the onion) to avoid anything falling through the grates. Grill for 5 minutes, then flip veggies or toss around the grill basket. Baste with remaining marinade and grill for another 2-5 minutes. When ready, vegetables should be slightly soft but still holding shape. The zucchini will finish on the quicker side and peppers and mushrooms may take longer. Exact grilling time will vary depending on the grill. It is best to keep a close eye on the veggies to prevent burning.
Meanwhile, toast bread on the upper rack of the grill (if available) or in the toaster.
When veggies are done, slice mushrooms into 4 slices each and leave other veggies whole.
Spread ½-ounce goat cheese on each of 4 slices of bread. Layer on 2 slices of eggplant, 1 piece of bell pepper, 1 piece of zucchini, and 2 slices of mushroom (half a portobello) to each sandwich. Top with a second slice of bread and consume immediately. Add a few leaves of basil to the sandwich for additional flavor, as desired.
Notes:
No grill? Use the oven. Preheat the oven to 400 degrees. Place marinated veggies on a baking sheet and spread out evenly. Roast for 10 minutes, then flip, and roast for another 5-10 minutes until desired doneness. For a more charred veggie, use the broiler function on the oven.
Any variety of whole wheat, seeded bread can be substituted (macros may vary).
Leftover veggies can be stored in the refrigerator for up to 4 days.
---
Some of the links above are affiliate links, which may earn Macrostax a commission at no extra cost to you.