This harvest quinoa salad is packed with fall flavors, bringing warmth and comfort to your table. It's full of nutrient-dense ingredients like kale, butternut squash, and quinoa, to help you feel super nourished and satisfied with every bite.
Servings: 6
Serving Size: 1.5 cups (103g)
Prep Time: 5 minutes
Total Time: 25 minutes
Nutrition Facts: 139 calories / 20g carbs / 3.5g protein / 5g fat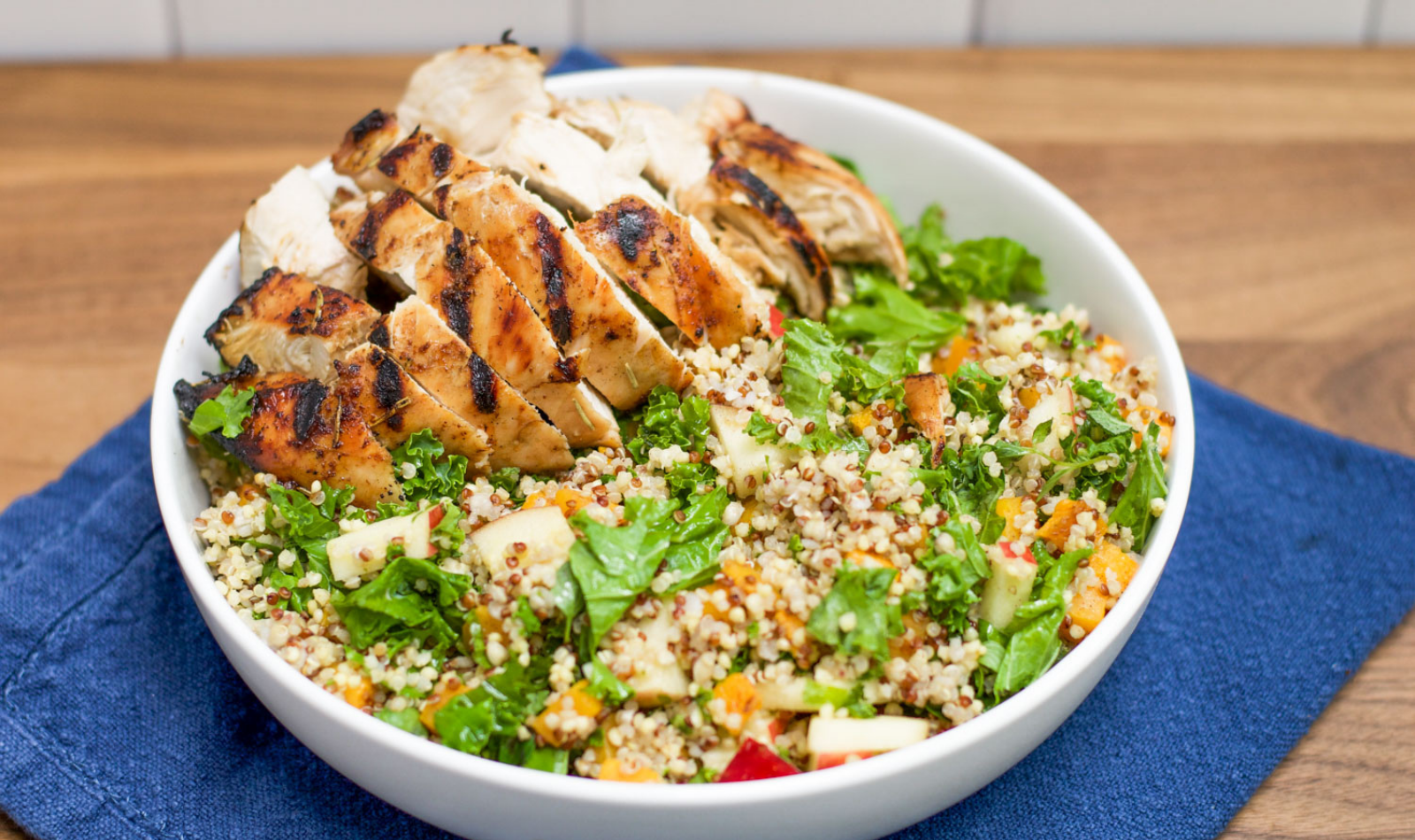 Ingredients:
¾ cup (128g) uncooked quinoa
2 tablespoons lemon juice
1 1/2 tablespoons olive oil
1 teaspoon honey
½ teaspoon salt
2 cups (45g) raw kale (chopped)
1 cup (135g) cooked cubed butternut squash (see notes for optional cooking instructions)
1 cup (94g) apple (diced)
1 tablespoon chopped fresh sage (optional)
1 teaspoon chopped fresh thyme (optional)
Instructions:
Cook quinoa according to package directions
Whisk together lemon juice, olive oil, honey, and salt to make the dressing.
When quinoa is cooked, toss with kale, apple, and squash. Add herbs, if using. Toss salad with the dressing and serve warm or cold.
Notes:
If you are cooking your own butternut squash, start by peeling the squash and removing the seeds. Cut into ½-inch cubes, place on a baking sheet and spray with 1-2 seconds of nonstick cooking spray. Use a sprinkle of cinnamon for extra flavor. Bake at 350 degrees for 15-20 minutes, until it's cooked and slightly soft, but still holds the cube shape.
Store leftovers for up to 3 days in the fridge.
---
Some of the links above are affiliate links, which may earn Macrostax a commission at no extra cost to you.