Wholesome, nutritious, and protein-packed, this hearty lentil soup is the perfect addition to any weekday lunch rotation. With its heart-warming blend of spices, it's sure to become your go-to soup recipe through the chilly months and beyond!
Servings: 8
Serving Size: 1 serving (347g)
Prep Time: 25 minutes
Total Time: 60 minutes
Nutrition Facts: 279 calories / 40g carbs / 23g protein / 3.5g fat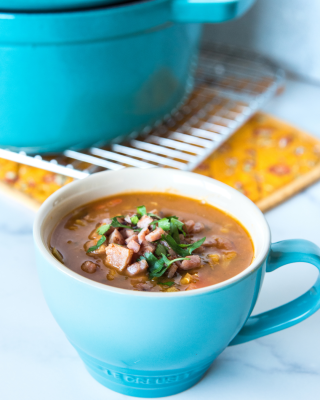 Ingredients:
2 teaspoons (9g) olive oil
1 large (250g) onion (chopped)
2 (130g) carrots (peeled and diced)
4 ribs (160g) celery (diced)
4 (12g) cloves garlic (minced)
1 tablespoon fresh thyme leaves (chopped)
2 teaspoons cumin
2 teaspoons curry powder
½ teaspoon red pepper flakes (optional)
28-oz can (794g) diced tomatoes (drained)
1 tablespoon (16g) tomato paste
6 cups (1440g) fat free chicken broth
2 cups (384g) dry red lentils
½ teaspoon salt
½ teaspoon black pepper
2 cups (32g) chopped kale (ribs removed)
12 oz (336g) "Wellshire Farms" Black Forest ham nugget
2 tablespoons (30g) lemon juice
Instructions:
Heat oil in a large pot over medium-high heat and add onion, carrots, and celery. Cook until the onion is translucent and the carrots and celery are tender – about 5 minutes.
Add garlic, thyme, cumin, curry powder, red pepper flakes and cook, stirring constantly until fragrant – about 30 seconds more,
Stir in diced tomatoes and tomato paste and cook a few more minutes, stirring often, to enhance flavor.
Pour in lentils and broth, followed by salt and pepper. Allow the soup to come to a boil before reducing the heat to low. Simmer for 25- 30 minutes, until the lentils are tender.
Ladle 4 cups of the soup into a blender and puree until smooth. Return pureed soup to the pot and stir to reincorporate. Alternatively, you may use an immersion blender to blend a portion of the soup.
Add in your chopped greens and ham, and cook 3-4 minutes more until the greens have wilted and the ham is warmed through. Stir in lemon juice and season with any additional salt and pepper, to taste.
Serve hot.
Notes:
This soup keeps for 5 days in the refrigerator and up to 3 months in the freezer.
To freeze, allow soup to cool to room temperature then freeze in one or two portion containers. When ready to use, defrost in the refrigerator overnight and reheat in a saucepan on the stove over medium heat.
Can't find Wellshire Farms Ham? You can easily substitute "Dietz and Watson" Black Forest ham 1:1 (macros are identical).
You can substitute 1 teaspoon of dried thyme for the fresh thyme.
Freezer filling up? Try this space-saving tip! Line a rectangular food storage container with plastic wrap, leaving an overhang, and fill with pre-measured portions of soup. Freeze until solid. Using the plastic overhang, lift out the frozen soup and wrap well. Transfer the soup rectangle to a Ziploc bag (don't forget to label with the date and contents!) and wonder with amazement at how much more you can fit in your freezer!
---
Some of the links above are affiliate links, which may earn Macrostax a commission at no extra cost to you.