There are a lot of tomato soup recipes out there, but ours is comfort food at its best! It's easy to make, satisfying, a good source of protein, and the addition of cannellini beans creates a creamy, bisque-like texture without all the added weight of heavy cream.
Servings: 6
Serving Size: 1½ cups (333g)
Prep Time: 15 minutes
Total Time: 1 hr, 10 min
Nutrition Facts: 155 calories / 23g carbs / 11.5g protein / 2.5g fat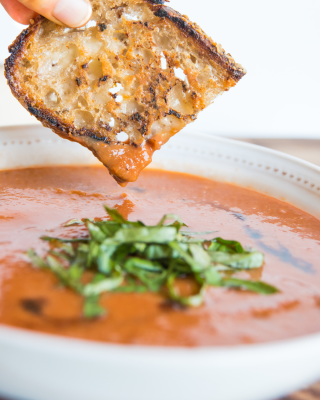 Ingredients:
1 tablespoon (14g) olive oil
1 large (200g) onion (diced)
4 cloves garlic (minced)
2 tablespoons flour
3, 14.5-ounce cans (1233g) diced tomatoes with juice
4 cups (960g) bone broth
1, 15-ounce can (258g) cannellini beans (rinsed and drained)
1 tablespoon sugar
1 sprig fresh thyme
¼ teaspoon ground pepper
¼ teaspoon salt
Instructions:
In a large pot or dutch oven, heat the oil over medium-low heat. Add onions and garlic and sauté until soft– about 5 minutes. Stir in flour and cook for an additional 60 seconds, stirring continuously, then add the tomatoes, bone broth, cannellini beans, sugar, thyme, salt, and pepper. Increase heat to medium-high and bring to a boil, stirring occasionally. As soon as the soup starts to bubble, reduce heat to low, cover, and let simmer for 45-60 minutes.
Remove the thyme sprig and use a hand blender to puree soup until smooth and creamy. Alternatively, transfer the soup to a blender and puree in small batches.
Serve warm and season with additional salt and pepper to taste.
Option to stir in a teaspoon of balsamic vinegar or top with fresh basil or oregano, if desired (macros not included).
Notes:
Make the recipe vegetarian by substituting vegetable broth/stock. Macros will vary.
This soup makes fantastic leftovers and tastes even better the next day. It can be stored in a sealed container in the fridge for up to five days or in the freezer for up to three months. To reheat, simply rewarm the soup on the stovetop over medium heat. If reheating from frozen, allow soup to thaw at room temperature first.
---
Some of the links above are affiliate links, which may earn Macrostax a commission at no extra cost to you.