This recipe screams summer! When it comes to in-season tomatoes, it's best to keep things simple and let the flavor really shine. The chicken can be grilled or baked and the marinade keeps it tender and juicy.
Servings: 4
Serving Size: 4 ounces chicken + 1 cup of salad
Prep Time: 15 minutes
Total Time: 28 minutes
Nutrition Facts: 217 calories / 9g carbs / 26.5g protein / 8g fat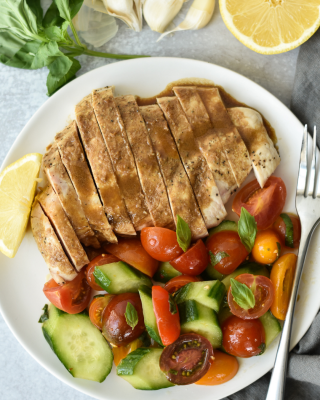 Ingredients:
Balsamic Chicken:
1 pound (454g) skinless, boneless chicken breast
2 tablespoons (32g) balsamic vinegar
1 tablespoon (14g) extra-virgin olive oil
1 teaspoon Dijon mustard
2 cloves garlic (minced)
Heirloom Tomato Salad:
3 tablespoons (46g) lemon juice
1 tablespoon (14g) extra-virgin olive oil
2 teaspoons lemon zest
16 ounces (448 grams) heirloom tomatoes (cut into bite-size wedges)
2 ¼ cups (300g) English cucumbers (quartered and cut into ½" thick slices)
¼ cup (6g) basil leaves (thinly sliced)
Optional garnishes: lemon wedges, additional fresh basil
Instructions:
If grilling the chicken, preheat the grill for medium-high heat. If baking the chicken, preheat the oven to 425 degrees.
Pound chicken to half-inch thickness and place in a shallow baking dish. Season both sides with salt and pepper.
Add 1 tablespoon olive oil to a small jar along with the balsamic vinegar, mustard, garlic and a pinch of salt. Whisk with a fork (or shake it up). Pour over the chicken and set aside. Move onto cooking chicken immediately or let marinate while preparing the salad.
Add the lemon juice, olive oil, and lemon zest to a large bowl and whisk well to combine. Add tomatoes, cucumbers and basil, then toss until fully coated. Season with salt and pepper to taste.
Grill the chicken for 10 minutes, flipping once, or until it reaches an internal temperature of 165 degrees. Baste with any extra marinade while grilling. If baking the chicken, bake in marinade for approximately 18 minutes or until it reaches 165 degrees.
Slice chicken and serve with the tomato salad. Garnish with additional basil or lemon wedges, as desired.