Looking to impress your special someone with a healthy Valentine's Day treat? Our adorable Individual Baked Apple Crisps are here for you! We're talking fresh apples stuffed with a cinnamon oat crumble topping and baked to crispy perfection. Of course, a dollop of ice cream on top doesn't hurt either!
Servings: 6
Serving Size: 1 apple half
Total cooked weight: 598g
Prep Time: 5 minutes
Total Time: 45 minutes
Nutrition Facts: 216 calories / 31.5g carbs / 2g protein / 9.5g fat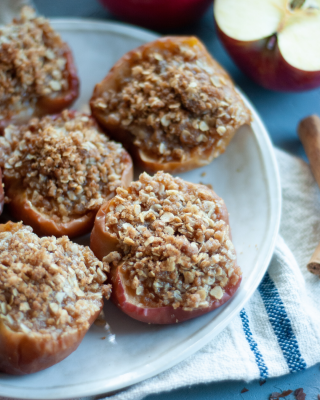 Ingredients:
3 medium (546g) apples
½ cup quick cooking oats
¼ cup all-purpose flour
¼ cup packed brown sugar
4 tablespoons refined coconut oil
½ teaspoon cinnamon
¼ teaspoon salt
Instructions:
Preheat the oven to 375 degrees. Prepare a baking sheet or 9×13-inch baking dish by lining with foil or spraying well with nonstick cooking spray.
Slice each apple in half from top to bottom. Cut out the seeds and core with a small paring knife to create a spherical opening in the top of the apple half.
Mix together the remaining ingredients (oats through salt) in a small bowl until they form a crumbly mixture. Use a fork or clean fingers to rub the coconut oil into the dry ingredients until it's well incorporated.
Stuff each core with crumble topping, about 2 tablespoons per apple half. The oat topping will be mounded above the apple. If you have extra topping left over, place in a small oven-proof dish and bake along with the apples for about 10 minutes or until lightly browned (and then sprinkle on as a topping before serving!).
Bake the apples for 35-45 minutes or until the apples are lightly softened and the topping is golden brown. If the topping gets too brown while baking, cover the dish with foil.
Serve topped with whipped cream, ice cream, nondairy ice cream, or chopped toasted nuts (macros not included.)
Notes:
You can use any variety of apple you prefer. Our favorites for this recipe are Gala, Fuji, Pink Lady, or Honeycrisp.
---
Some of the links above are affiliate links, which may earn Macrostax a commission at no extra cost to you.