Just like a bowl of french onion soup, but in the form of a balanced and highly satisfying pasta dish.
Servings: 5 servings
Serving Size: 1 serving (234g)
Prep Time: 20 minutes
Total Time: 45 minutes
Nutrition Facts: 381 calories / 41g carb / 30g pro / 10.5g fat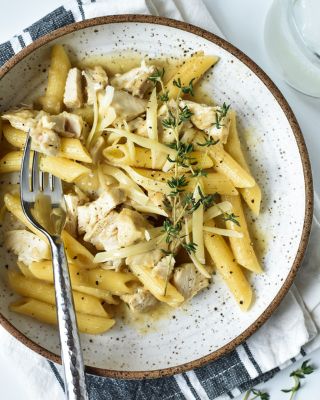 Ingredients:
2 tablespoons (30g) olive oil
1 pound (454g) boneless skinless chicken breasts (cubed)
2 (350g) yellow onions (thinly sliced)
½ teaspoon salt (divided)
2 cloves garlic (minced)
¼ teaspoon nutmeg
8 sprigs fresh thyme
1 cup (240g) beef broth
8-ounces (228g) penne pasta
½ cup (54g) shredded Gruyere or Swiss cheese
Optional garnishes: thyme, additional shredded gruyere
Instructions:
Press the sauté button on the instant pot and heat the olive oil. Add the onions, stirring frequently and cooking until they start to get brown and caramel-colored (about 10 minutes), stirring occasionally. Add ¼ teaspoon salt, along with the garlic, nutmeg and thyme and press the cancel button.
Pour in the broth and stir to scrape up any bits that might be stuck to the bottom of the pot. Next add the pasta and remaining ¼ teaspoon salt then stir to combine. Nestle the chicken in with the pasta. Place the lid on top and lock it in place. Make sure the steam valve is in the sealed position. Set the timer for 5 minutes on high pressure. 
Once the cook time is complete, do a quick release of the steam valve. Remove the thyme sprigs and add the cheese to the pasta, stirring until it melts and coats the pasta. 
Serve with additional grated cheese or fresh herbs, as desired, macros not included.
Notes
To do a quick release of the steam valve, I recommend using a wooden spoon or other utensil so you don't have to place your hand right next to the valve.