Tex-Mex? Tex-Yes! This fuss-free and delicious dinner is bursting with flavor. Enjoy as-is or wrap in a tortilla for a meal on the go.
Servings: 6 servings 
Serving Size: 1 serving (248g)
Prep Time: 10 minutes
Total Time: 30 minutes
Nutrition Facts: 238 calories / 19g carbs / 31g protein / 4g fat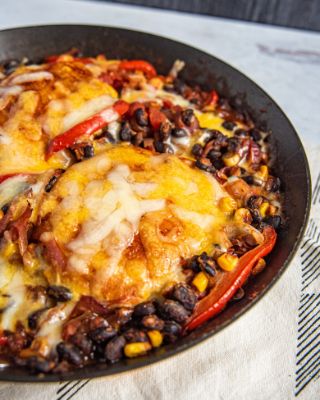 Ingredients:
1 1/2 lbs (681g) skinless, boneless chicken breasts
1 teaspoon salt
2 teaspoons olive oil (divided)
1 large (230g) red onion (sliced)
1 (150g) bell pepper (sliced)
1 cup (165g) corn kernels (fresh or frozen)
1 15-ounce can (260g) black beans (rinsed and drained)
1 cup (240g) 'Herdez' roasted salsa roja
1/2 cup (56g) "Kraft" 2% Mexican style four cheese blend
Instructions:
Preheat the oven to 450 degrees F.
Working on a clean, sturdy surface, pat chicken dry and place between two pieces of plastic wrap or wax paper. Pound chicken with the flat side of a meat mallet, rolling pin, or small skillet until they're an even thickness (about 1/2-inch). Season both sides with salt.
Heat one teaspoon of oil in a large, nonstick, oven-safe skillet over medium-high heat. Add chicken breasts and sear 3-4 minutes on each side until nicely browned. Remove chicken and set aside.
Drizzle the remaining 1 teaspoon of olive oil into the pan and add the onion, bell pepper, and corn. Sauté 5-6 minutes, stirring frequently, until the onions and bell peppers are soft. Stir in black beans and salsa roja and continue to cook for an additional 1-2 minutes, until the sauce is heated through.
Place the chicken back into the pan, nestling it into the sauce, and sprinkle with cheese. Transfer the entire skillet into the oven and bake for 4-5 minutes until the cheese is melted and chicken is cooked through (a thermometer inserted into the chicken should read at least 165 degrees F).
Slice chicken breast and serve with sauteed bell peppers, onions, and beans. Enjoy with tortillas, If desired (macros not included).
Notes
Pounding the chicken first ensures faster, even cooking. Alternatively, thin-sliced boneless-skinless chicken breasts are available for purchase at most grocery stores.
Leftovers may be stored in an airtight container in the fridge for up to 4 days. To reheat, place leftovers in a nonstick pan and cook over medium-high heat until heated through.
Substitute with any tomato-based salsa as desired. Macros may vary slightly.