Traditional jambalaya can be on the heavy side and often calls for a long list of ingredients. This simplified instant pot version cuts way down on prep time with all of the same great flavors.
Servings: 4 servings
Serving Size: 1 serving (406g)
Prep Time: 20 minutes
Total Time: 45 minutes
Nutrition Facts: 448 calories / 54.5g carb / 29.5g protein / 12.5g fat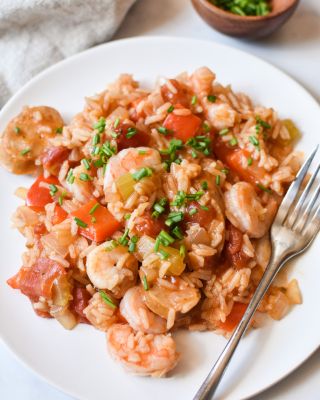 Ingredients:
2 tablespoons olive oil (divided)
6-ounces (170g) Andouille chicken sausage (sliced ½-inch on a bias)
1 medium (300g) yellow onion (small diced)
1 stalk (60g) celery (diced)
1 large (180g) red bell pepper (diced)
4 cloves garlic (minced)
1 tablespoon Cajun seasoning
¾ teaspoon salt
1 cup (180g) uncooked long-grain white rice
14.5 ounce can (411g) diced tomatoes with juice
2 cups (480g) vegetable broth
12-ounces (340g) frozen fully cooked shrimp (thawed and chopped)
Optional garnishes: parsley and/or chives
Instructions:
Press the sauté button on the instant pot and heat 1 tablespoon of the olive oil. Add sausage and brown (1-2 minutes), then flip and repeat on the second side. Remove to a paper-towel lined plate.
Add the remaining 1 tablespoon olive oil to the pot and add onions, stirring frequently and cooking until just softened (about 2-3 minutes). Add celery and bell peppers then cook for another 1-2 minutes. Add garlic, Cajun seasoning and salt then stir well and press the cancel button (the mixture will continue to cook as the pot cools so keep stirring to prevent the garlic from burning).
Add the rice and stir. Then add tomatoes and broth and stir again to scrape up any bits that might be stuck to the bottom of the pot.
Place the lid on top and lock it in place. Make sure the steam valve is in the sealed position. Set for 7 minutes on high pressure. Once the cook time is complete, carefully do a quick release of the steam valve (see notes). When the float valve has dropped, remove the lid and stir in the sausage and shrimp. Garnish with chopped parsley and/or chives if desired.
Notes
There are several varieties of frozen shrimp available. Make sure to buy pre-cooked shrimp, preferably without the tails so all you have to do is thaw, chop, and stir it in just before serving.
To do a quick release of the steam valve, I recommend using a wooden spoon or other utensil so you don't have to place your hand right next to the valve.