Lemon pepper chicken and vegetables is the perfect combination for a meal prep lunch. Using a store-bought seasoning blend is a great way to simplify the ingredients list without sacrificing flavor.
Servings: 5 servings
Serving Size: 1 serving (400g)
Prep Time: 15 minutes
Total Time: 30 minutes
Nutrition Facts: 300 calories / 35.5g carb / 29.5g protein / 4.5g fat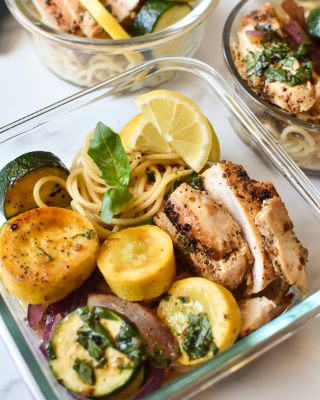 Ingredients:
1 pound (454g) boneless skinless chicken breast (pounded to ½-inch thickness)
4 teaspoon olive oil (divided)
4 teaspoons lemon pepper seasoning
1 teaspoon salt (divided)
1 medium (200g) zucchini (sliced into ½-inch rounds)
1 medium (230g) yellow squash, sliced into ½" pieces
½ medium (130g) red onion (sliced)
8-ounces (224g) dry spaghetti noodles
3 tablespoons fresh lemon juice
¼ cup fresh basil (thinly sliced)
Optional garnishes: fresh basil, lemon wedge
Instructions:
Preheat the oven to 400 degrees F.
Heat 3 teaspoons of the olive oil in a cast iron (or another oven-proof) skillet. Season both sides of the chicken with the lemon pepper and ½ teaspoon of the salt. Add the chicken and cook until browned on both sides (about 3-5 minutes per side). It doesn't need to be completely cooked through since it will go in the oven.
In a large bowl, add the vegetables, remaining teaspoon of olive oil and ¼ teaspoon salt. Toss until evenly coated.
Add the vegetables to the cast iron skillet, carefully cover with foil and transfer to the oven.
Bake for 12-15 minutes or until chicken reaches an internal temperature of 165 degrees F on an instant-read thermometer and the vegetables are tender and vibrant but still have a little bit of bite to them.
While the chicken and vegetables are in the oven, cook the spaghetti per package directions.
Divide the spaghetti, cooked chicken, and vegetables evenly between the food storage containers. Add the lemon juice and basil to the cast iron skillet and whisk, scraping up any browned bits from the bottom. Season with the remaining ¼ teaspoon salt. Divide sauce evenly among each portion.
Notes
Let the food cool completely in the refrigerator before covering. Store for up to three days.