Soba is a nice change from other pastas because it has a wonderful nutty, earthy flavor. It's also naturally gluten-free.
Servings: 4 
Serving Size: 220g
Prep Time: 10 minutes
Total Time: 20 minutes
Nutrition Facts: 351 calories / 47g carb / 24.5g protein / 7g fat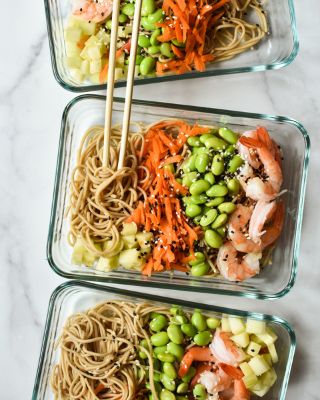 Ingredients:
8-ounces (224g) dry soba noodles
¼ cup (56g) rice vinegar
2 tablespoons (28g) soy sauce
1 tablespoon toasted sesame oil
1 teaspoon pure maple syrup
½ teaspoon grated fresh ginger
8-ounces (224g) cooked shrimp (peeled & deveined)
1 cup (149g) shelled edamame
1/2 cup (75g) cucumber (diced)
1/2 cup (50g) shredded carrots
Optional garnishes: sesame seeds
Instructions:
Cook soba noodles per package directions.
Meanwhile, add rice vinegar, soy sauce, maple syrup, and ginger to a small bowl and whisk until well-combined.
Once noodles are finished cooking, drain and rinse thoroughly with cold water. Transfer the noodles to a large bowl and toss with about half the dressing.
Divide the dressed noodles evenly into four food storage containers, then layer on the shrimp, edamame, cucumber and carrots. Drizzle remaining dressing over the top.
Notes
Make sure to purchase pre-shelled edamame. You can often find it fresh in the produce section. If not, it's also widely available in the frozen vegetable aisle. Thaw per package instructions before using.
Save time by using pre-shredded carrots.
Use rice noodles, somen noodles, lo mein, or linguine pasta if soba noodles are unavailable. Macros will vary.