Enjoy the refreshing flavors of key lime pie with these silky smooth cheesecake bars! These bars are the perfect treat to serve at summer gatherings.
Servings: 12 servings
Serving Size: 1 bar (89g)
Prep Time: 15 minutes
Total Time: 45 minutes
Nutrition Facts: 288 calories / 36.5g carbs / 8.5g protein / 12g fat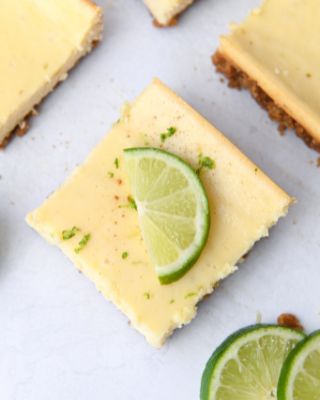 Ingredients:
1 ½ cups (150g) graham cracker crumbs or 10 graham cracker sheets
7 tablespoons (100g) unsalted butter (melted)
4-ounces (112g) fat-free cream cheese
14-ounces (535g) sweetened condensed milk
3 large (99g) egg whites
½ cup (120g) key lime juice
1 tablespoon lime zest
1 scoop (31 g) "Optimum Nutrition Gold Standard 100% Whey", vanilla ice cream flavor
Cinnamon and lime wedges, to garnish
Instructions:
Preheat the oven to 350 degrees F. Lightly coat an 8×8 baking dish with nonstick cooking spray.
Add graham cracker sheets to a blender or food processor and pulse a few times until the mixture looks like a flour consistency. If using pre-made graham cracker crumbs, measure 1 1/2 cups (155g) and proceed to the next step.
In a medium bowl, mix together the graham cracker crumbs and melted butter until mostly holding together. Pat this mixture into the bottom of the baking dish for the crust. Bake for 8 minutes, then remove from the oven and set aside.
Using a hand mixer or a stand mixer, beat the cream cheese until smooth and no lumps remain.
Pour in the sweetened condensed milk. Mix until smooth.
With the mixer on low, slowly add the egg whites and beat until combined. Stir in the lime juice, lime zest, and protein powder.
Spread the cheesecake filling onto the graham cracker crust. Bake for 30-35 minutes, until the edges are pulling away from the dish and the center of the cheesecake is firm.
Let cool to room temp before transferring to the fridge to chill. Serve garnished with lime wedges and a dash of cinnamon.
Notes
An equal amount of melted coconut oil can be used in place of butter. Macros may vary.
This recipe works with up to 2 scoops of protein powder. The protein powder can be omitted but the macros will differ.
Key lime juice is available in the bottle, if fresh key limes are unavailable, or substitute regular lime juice as needed.