Looking for a creamy sauce without all the fat? This lightened up chicken dish is sure to fit the bill for an easy, mostly hands-off dinner. Made healthier with light cream and the addition of spinach and mushrooms, it's all the flavor you crave yet it won't leave you feeling weighed down.
Servings: 4
Serving Size: One 4-ounce piece of chicken with spinach, mushrooms and sauce (227g)
Prep Time: 5 minutes
Total Time: 40 minutes
Nutrition Facts: 234 calories / 8.5g carbs / 31.5g protein / 8g fat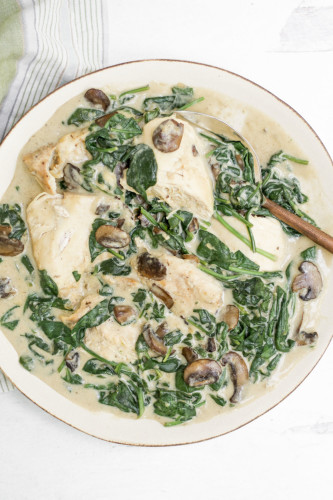 Ingredients:
1 cup (108g) onion (chopped)
4 (12g) garlic cloves (minced)
8 ounces (227g) mushrooms (sliced)
1 pound (454g) skinless, boneless chicken breast
¼ cup (63g) chicken broth
1 teaspoon garlic powder
½ teaspoon salt
½ teaspoon black pepper
5 ounces (140g) raw baby spinach
1 tablespoon (9g) flour
⅓ cup (75g) light cream
6 tablespoons (27g) grated Parmesan Cheese
Instructions:
Set Instant Pot to saute function.
Cut chicken into 4, ½ inch thick pieces at 4 ounces each.
Spray with nonstick cooking spray and saute onion until they begin to soften, about 3 minutes. Add garlic and continue to cook for another 30 seconds until fragrant. Add mushrooms and stir, cooking for 3-4 minutes, until they begin to soften. If mushrooms begin to stick add a splash of chicken broth to the pan to loosen.
Add chicken, broth, garlic powder, salt, pepper and cover the Instant Pot. Turn on the pressure cooker to high for 7 minutes. if chicken pieces are thicker, they may need to cook a little longer. Once it finishes cooking, let the Instant Pot naturally pressure release for 10 minutes.
Remove the lid and place chicken on a platter. Leave the mushrooms and broth in the pot. Turn on saute function again and add baby spinach and stir until it's wilted. Add in flour, cream, and Parmesan cheese. Stir until well mixed and the sauce thickens.
Pour sauce, including vegetables, over chicken and serve immediately.
Notes:
Serve with optional pasta, if desired (macros not included).
Leftovers can be refrigerated for up to 2 days. Reheat by sauteing in a pan or heating in the oven. Microwaving will make the chicken rubbery.
---
Some of the links above are affiliate links, which may earn Macrostax a commission at no extra cost to you.