Half meatball, half turkey meatloaf, these Italian Meatloaf Muffins will bring Italy into your kitchen. This simple recipe is a variation of our super popular Enchilada Meatloaf Muffin recipe, and is family and meal-prep friendly!
Servings: 4
Serving Size: 3 muffins (236g)
Prep Time: 15 minutes
Total Time: 45 minutes
Nutrition Facts: 273 calories / 14g carbs / 35.5g protein / 8.5g fat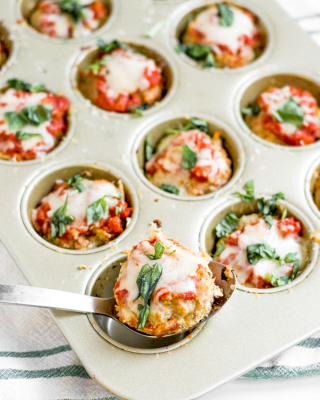 Ingredients:
¼ cup (43g) uncooked quinoa
1 pound (453g) 97% lean ground turkey
4 tablespoons (24g) grated Parmesan cheese
2 large (66g) egg whites
½ cup (2 ounces) "Kraft" shredded part-skim mozzarella cheese
1 cup (226g) "Cucina Antica" garlic marinara sauce
½ cup (120g) diced onion
3 garlic cloves (9g), minced
1 tablespoon Italian seasoning
¼ teaspoon salt
⅛ teaspoon ground pepper
Optional fresh chopped basil for serving
Instructions:
Preheat the oven to 350F. Spray 12 muffin tins with nonstick cooking spray or use silicone muffin liners.
Cook the quinoa according to package directions. Once done remove from heat and let cool.
While the quinoa is cooking, add the turkey, egg whites, onion, garlic, Parmesan cheese, salt, Italian seasoning, ½ cup of the marinara, salt, and pepper to a large mixing bowl. Add the quinoa to the bowl. Mix gently until all ingredients are well combined.
Divide the mixture evenly into 12 muffin tins. Bake for 25 minutes.
Remove from the oven and top each meatloaf muffin with about 1 tablespoon of marinara (divide the remaining ½ cup of marinara sauce among the 12 muffins). Sprinkle the remaining ½ cup of mozzarella across the 12 muffins.
Return to the oven for 5 minutes until the cheese is melted. Top with fresh basil for garnish if desired.
Notes:
These meatloaf muffins can be stored in the refrigerator for up to 5 days. Reheat in the microwave or oven. Store in the freezer for up to 3 months.
---
Some of the links above are affiliate links, which may earn Macrostax a commission at no extra cost to you.