If you want an alternative to chicken noodle soup, look no further than Italian wedding soup! The name refers to the marriage of ingredients, which features lean ground meat and fresh vegetables in a light broth.
Makes: 6 servings
Serving Size: 1 serving (460g)
Prep Time: 30 minutes
Total Time: 60 minutes
Nutrition Facts:  304 calories / 38g carbs / 27.5g protein / 5g fat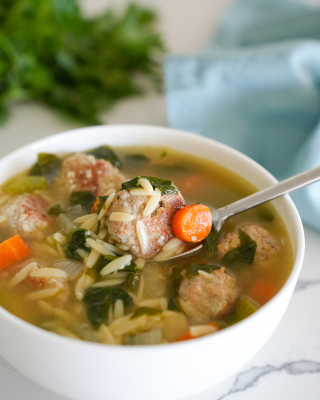 Ingredients:
Meatball Ingredients:
16-ounces (448g) lean ground turkey
1 large (50g) egg
¼ cup (28g) "Progresso" Italian bread crumbs
1 tablespoon Italian seasoning
1 teaspoon garlic powder
½ teaspoon salt
Soup Ingredients:
8-ounces (227g) dry orzo
1 tablespoon (14g) olive oil
3 large (138g) carrots (cut into small chunks)
3 stalks (113g) celery (cut into small chunks)
1 large (113g) yellow onion (quartered)
6 cups (1,440g) low sodium chicken broth
1 packed cup (180g) fresh spinach (chopped)
Instructions:
Preheat the oven to 400 degrees and line a baking sheet with foil or parchment paper.
In a medium bowl, lightly mix together the ground turkey, egg, bread crumbs, Italian seasoning, garlic powder, and salt.
Scoop roughly 2 tablespoons of meat mixture and form into balls, approximately 24.
Place on a prepared baking sheet and bake for 8-10 minutes until golden brown.
Meanwhile, cook pasta according to package directions.
Then, in a large pot, heat olive oil. Add carrots, celery, and onion and sauté for five minutes until softened.
Add chicken broth and season with salt and pepper to taste, bringing soup to a boil.
Add pasta, meatballs, spinach. Cover and reduce heat to medium low. Simmer for 10-15 minutes.
Serve warm and sprinkle with Parmesan cheese (macros not included).
Notes:
Substitute acini de pepe pasta for orzo as desired
Use any variety of lean ground turkey available but know that fat percentage can vary between 1-15% across brands and will impact macros.