Good bread is beautiful on its own, but top it with some lemony whipped ricotta and a perfectly poached egg and you've got yourself something special!
Servings: 2
Serving Size: 1 toast (180g)
Prep Time: 15 minutes
Total Time: 25 minutes
Nutrition Facts: 241 calories / 15g carbs / 14g protein / 11g fat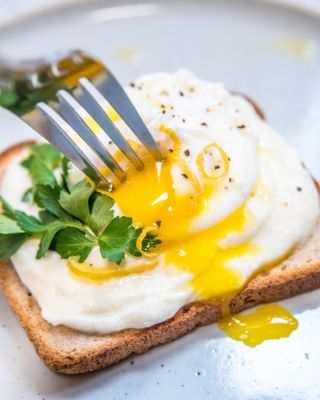 Ingredients:
1/3 cup (83g) "Lucerne" part-skim ricotta cheese
1 teaspoon fresh lemon juice
⅛ teaspoon lemon zest
2 large (100g) eggs
2 slices (56g) "Dave's Killer Bread" thin-sliced, powerseed
Instructions:
Place ricotta, lemon juice, lemon zest in a medium bowl and mix to combine. Season with salt and pepper.
Bring a pot of water (at least 4 inches deep) to a low boil. While the water is heating, divide the ricotta evenly between the two toasts
To poach the eggs, crack an egg into a small bowl or ramekin and set aside. Using a large spoon, gently swirl the water in the pot to create a vortex. Slip the egg from the small bowl into the middle of the vortex and let cook for 3 minutes. Remove the egg from the water using a slotted spoon and gently place on top of the ricotta
Repeat poaching process for second toast.
Garnish toasts with additional herbs, salt and pepper, and a drizzle of olive oil, if desired (macros not included).
Notes:
Any brand of part-skim ricotta can be substituted. The macros will be similar but may not match exactly.
Looking for a little extra protein? Try adding smoked salmon (macros not included).
Did you know you can poach eggs ahead of time? After the eggs have finished cooking, place them in a bath of ice water and store in the fridge for up to 5 days. When ready to eat, just drop the egg in a bowl of boiling water for 20-30 seconds, or until warmed through.
This dish is best eaten right when assembled, but the ricotta can be prepared ahead of time and stored separately in the fridge for up to 3 days.