Refreshing spring flavors like lemon and olive oil combine with crisp veggies and chickpeas in this zesty salad.
Servings: 4 servings
Serving Size: 1 bowl (345g)
Prep Time: 15 minutes
Chill time: 1 hour
Total Time: 1 hour 15 minutes
Nutrition Facts: 266 calories / 49 g carbs / 17 g protein / 3.5 g fat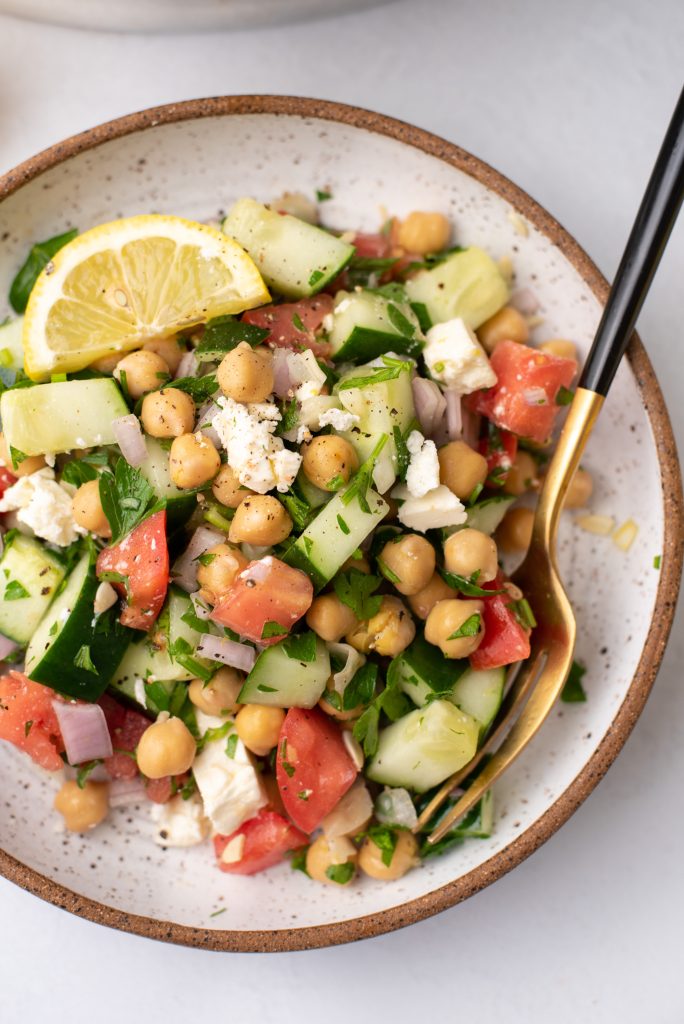 Ingredients:
3 cups (506g) canned chickpeas (rinsed and drained)
2 medium (402g) cucumber (medium dice)
2 medium (184g) roma tomato (medium dice)
2 small (86g) shallot (finely diced)
½ cup (56g) reduced-fat feta (crumbled)
½ cup (54g) chopped parsley
⅓ cup (81g) lemon juice
2 tablespoons lemon zest
¼ teaspoon salt
Instructions:
To a large mixing bowl, add the chickpeas, diced cucumber, diced tomato, shallot, reduced-fat feta cheese, and parsley. Stir to combine.
Add the lemon juice, lemon zest, salt, and season with freshly ground black pepper to taste. Stir to combine.
The salad can be enjoyed immediately but is best served chilled. Cover and chill in the fridge for at least 1 hour. Enjoy!
Notes:
For best results, pat chickpeas dry with a paper towel to remove excess moisture before using.
Substitute any variety of fresh tomato as desired.
Omit the feta cheese for a dairy-free version of this salad. Macros will vary.